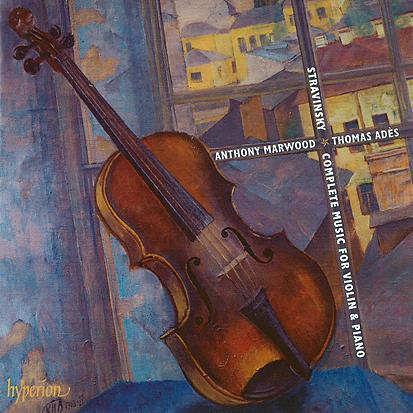 The Strad Issue: January 2010
Musicians: Anthony Marwood (violin) ?Thomas? Adès (piano)
Composer: Stravinsky
Stravinsky's 'complete' music for violin and piano consists of one original piece, his Duo concertant of 1932, and a set of arrangements taken mostly from his own oeuvre. The title here is slightly misleading, as Stravinsky produced two suites based on Pulcinella, of which Marwood and Adès play the first, plus the Scherzino movement from the second (aka Suite italienne). Although Stravinsky picked out some of the more melodic examples from his back catalogue, there is edge and bite to much of this music. Marwood frequently plays with quite?a cool 'white' sound, responding to?the clipped lines with a nicely focused tone?that?brings grace and colour, and he ?is ?elegantly beautiful given his ?head.
Stravinsky makes considerable understated demands on his violinist, with frequent quantities of double-stops, which Marwood dispatches with great style. He is great fun being the flibbertigibbet Nightingale from Le rossignol, and the Scherzo from The Firebird is a real virtuoso delight. The Duo concertant is a particularly fine example of the partnership of these two great musicians, whether in the busy conversation of the Gigue or the rapt stillness of the second Eglogue. The recorded sound is clear and bright, with the instruments perfectly ?balanced.
TIM HOMFRAY