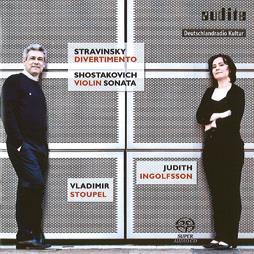 The Strad Issue: January 2012
Description: Powerful recordings of two highly different Russian violin works
Musicians: Judith Ingolfsson (violin) Vladimir Stoupel (piano)
Composer: Stravinsky, Shostakovich
Stravinsky's Divertimento is an arrangement of the music from his ballet The Fairy's Kiss, a homage to Tchaikovsky. Judith Ingolfsson and Vladimir Stoupel work hard to bring out the subtleties in the music, ensuring that this never feels like an accompaniment to a spectacle that's eluding us. Icelandic violinist Ingolfsson, a professor at the Stuttgart Hochschule, has a gorgeously rich and incisive tone, and her colourful shadings of Stravinsky's elegant and magical themes have a feather-light touch. She is given impeccable support by Stoupel, who achieves a delicious transparency of texture. Recorded sound is pleasantly bright and clean, with a nice bloom on the violin.
Darker thoughts shadow Shostakovich's Sonata, yet here the players dare to rein in the expressive intensity, allowing it to creep in gently – the effect is as if one can hear Shostakovich refracted through the delicacy of the Stravinsky. It serves to increase the sense of bleakness and melancholy, from the slow build of the opening Andante through to the driving, dancing second-movement Allegretto. The passacaglia variations of the final, circling Largo, where the undertone of Bach's fugues seems ever present, are a well of tragic intensity – a gripping ending to a powerful and haunting reading.



Catherine Nelson