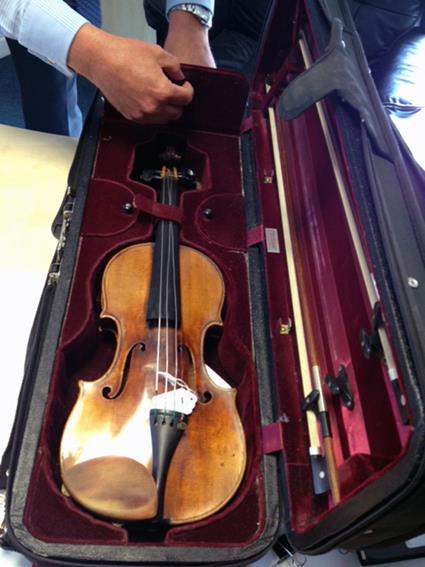 UK police have recovered a 1696 Stradivarius violin, more than two and half years after it was stolen from Korean violinist Min-Jin Kym. The instrument, discovered intact with some very minor damage including a small crack on the front, was recovered in its case on 18 July, along with a missing £62,000 Peccatte bow and a bow made by the School of Bazin, valued at over £5,000.

Valued at £1.2m at the time of the theft, the violin (pictured) was stolen on 29 November 2010 from a sandwich bar at Euston station. Irish traveller John Maughan, working with two teenage accomplices, took the case while Ms Kym was making a phone call. Although Maughan was arrested in March 2011 and jailed for four and a half years, neither the violin nor the bows were recovered.

In 2010 the instrument's insurers, Lark (Group) Ltd, offered a £15,000 reward in conjunction with several Lloyd's underwriters. The instrument is now in the hands of the underwriters. Louise Deacon, the insurer's assistant manager of musical instruments, said that Ms Kym would have the option to buy back the instrument at the settlement price. 'We are really happy to have such a valuable and treasured instrument back in the world of classical music where it belongs,' she added. 'We are looking forward to the outcome of our experts' assessment on the condition of the instrument so we can then liaise with Ms Kym with regards to purchasing back the Stradivari.'
Subscribe to The Strad or download our digital edition as part of a 30-day free trial.
Photo: British Transport Police