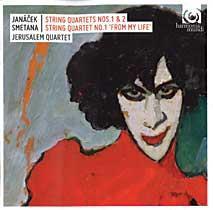 The Strad Issue: January 2014
Description: Performances that bring out the personal nature of the works' inspirations
Musicians: Jerusalem Quartet
Composer: Smetana, Janácek
It is clear from the opening of Smetana's First Quartet that the Jerusalem players have the quality essential for all these deeply personal works: character, and lots of it. It shows itself in myriad details, even as the music sweeps energetically onwards, in the tailing of a phrase, a beautifully judged dynamic shading, the length and tone given to a staccato note. Everything is alive and colourful, whether subtle or broad: second violin and viola carry off their trumpet impersonations splendidly in Smetana's Polka, and the finale swings along with an infectious mixture of the light and the earthy. The final sense of grief at Smetana's deafness is palpable.
There is grief, too, in Janácek's First Quartet, where the players eloquently capture his portrait of a trapped young woman, mixing beauty and despair. They negotiate the quick-change emotional and dramatic extremes with their own palette of colour and theatrical flair.
Much of the Second Quartet is very beautiful (aside from the terrifying outbursts) in its phrasing, shaping and simply in quality of sound. All three of these performances are ultimately deeply moving, each in their own way. The recorded sound is excellent, clear and warm.
TIM HOMFRAY