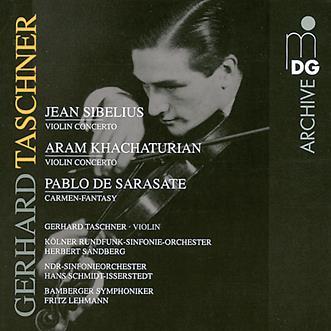 The Strad Issue: January 2008
Musicians: Gerhard Taschner (violin) Cologne Radio Symphony Orchestra, Herbert Sandberg (conductor) NDR Symphony Orchestra, Hans Schmidt-Isserstedt (conductor)* Bamberg Symphony Orchestra, Fritz Lehmann (conductor)†
Composer: Sibelius, Khachaturian, Sarasate
I have not previously encountered this 1955 version of the Khachaturian, a work Gerhard Taschner (1922–76) plays pretty well. He is supported by the splendid Hamburg radio band under Schmidt-Isserstedt but unfortunately the sound is a little 'papery'.In the interim since the 1947 radio recording (on Tahra), Taschner switched to the revised, shortened cadenza. He also apparently decided that as Heifetz never recorded this work, we should hear how Heifetz might have played the first movement's second subject.
It is a passable imitation but a mite vulgar. He plays well in the cadenza and the succeeding two movements.
He is also in good form in the 1953 'Carmen' Fantasy, which has been out before – I prefer the sound on EMI. In trying to remedy a very slight edge on his tone, MDG has made a roomy acoustic sound even roomier. Some of his portamentos again verge on vulgarity but his upper register is beautifully controlled and he is technically accurate.
For the Sibelius, in better sound than on Archipel, Taschner is partnered by an estimable German-born Swedish maestro and a good radio orchestra, but the performance does not take off, despite impressive moments from both soloist and conductor. They seem at odds on the tempo of the Allegro moderato, which has too many relaxations.
The Adagio is turgid in places, with more traces of crudity from Taschner, and the finale is only so-so. The sole essential historical Sibelius is the Ignatius, and I could name a dozen others before getting to Taschner.
TULLY POTTER