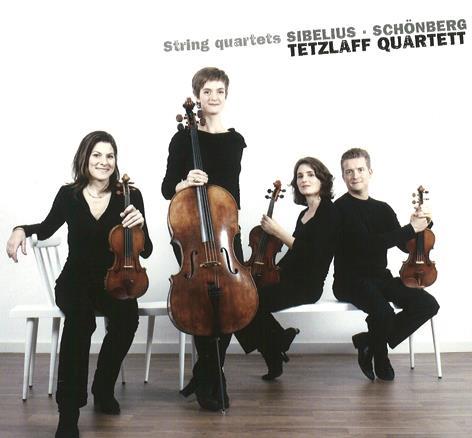 THE STRAD RECOMMENDS
The Strad Issue: January 2011
Description: A spare, intense reading of Brahms and Schoenberg
Musicians: Tetzlaff Quartet
Composer: Sibelius, Schoenberg
Sibelius and Schoenberg might seem an unlikely pairing, but the two composers' D minor quartets are well matched for their obsession with musical process, Sibelius with Beethovenian motivic development, Schoenberg with his own take on Lisztian thematic transformation. Sibelius's Quartet (1909), written with the same spareness and intensity of expression as the contemporary Fourth Symphony, receives a performance of commanding rigour and refinement from Christian Tetzlaff and his colleagues, who often bring an appropriately cool Nordic colouring to their tone. The fast movements have bite and rhythmic crispness, and the players keep the long slow movement taut with emotion while never descending into mawkishness.
The big challenge of Schoenberg's First Quartet (1905) is the fact of its 45-minute, four-movements-in-one span. But it was this work that originally brought these players together as an ensemble in 1994 and familiarity with its emotional and formal demands springs from every bar. The pacing of the music's ebb and flow is ideal and the players capture the music's Viennese warmth and wit perfectly, as Schoenberg's hyper-Romantic trajectory moves inexorably towards its blissful D major, Verklärte Nacht-like close. By the end you really feel you've been on a compelling journey.
The recording of both works is admirably rounded and well balanced.
Matthew Rye