Ariane Todes discovers a 1904 review that raises questions still raging today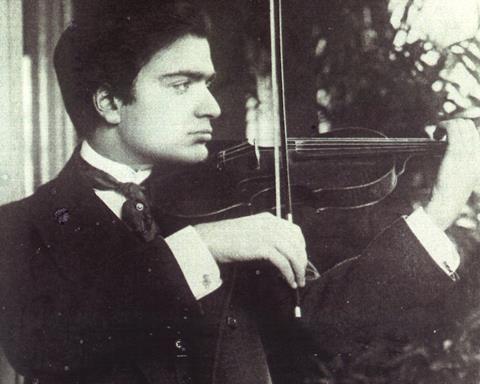 Doing some research for our October issue (an exciting project about which more soon) I came across this review of Bronislaw Huberman's London debut in the November 1904 issue of The Strad.
'Herr Hubermann has given his first recital – in St James's Hall, and his efforts met with no little success. It is not easy nowadays to astonish that part of the British public which "dotes" on violin recitals. For several past years astonishing has been the key note, so to speak, of too many concerts and the evident aim of far too many violinists. Herr Hubermann does not astonish, and, it seems to me, does not aim at astonishing. He is, as one critic says, a very pleasing player. In cantabile passages his tone is very pleasant if the player does err a little towards undue sentiment in producing it. On the other hand it is inclined to thinness in rapid passages. He was at his best in Raff's not very inspired suite, but his rendering of the Kreutzer suite had many good points, notably in the slow movement.'
Apart from the quaint language and somewhat sanctimonious tone, it's a fascinating snapshot of a world gone by. Raff and Kreutzer on the programme (I can't find any evidence of a suite by Kreutzer, unless he means the Beethoven sonata). A British public that 'dotes' on violin recitals (although I'm sure the top players would attest to this being the case still). Quite surprising is his criticism of 'undue sentiment' – one tends to think of the style of those times as being more self-indulgent, but it seems such practice was not always appreciated back then.
Most interesting to me is the contrast between playing that astonishes and playing that pleases – Huberman being praised (somewhat dimly) for the latter. I assume the reviewer means that players who aim to astonish perform technically difficult pieces full of fireworks, whereas pleasing playing touches something deeper, and can come with the simplest and 'easiest' of music – Raff for example.
In recent years I've heard many young competition players who can rattle off the Tchaikovsky Concerto but have difficulty finding something meaningful in Mozart, evidence that things haven't necessarily changed since 1904. And yet the top players astonish and please in equal measure – someone like Joshua Bell or Gil Shaham can make a C major scale emotionally engaging. So maybe there's a balance to be struck, and the aim should be to do both.
What do you think? What should a player's priority be when performing? How have players' and audiences' attitudes changed since 1904?
To access The Strad Archive going back to 1890, sign up here.