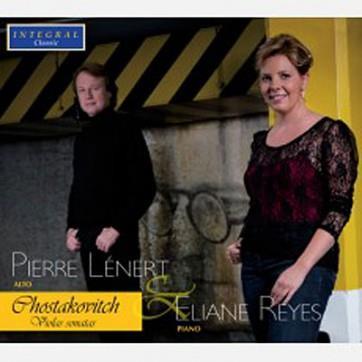 The Strad Issue: January 2013
Description: A successful new viola version of Shostakovich's Cello Sonata
Musicians: Pierre Lénert (viola) Eliane Reyes (piano)
Composer: Shostakovich
The two pieces included in this CD effectively represent the beginning and end of Shostakovich's chamber music production (the early, one-movement post-Rachmaninoffian piano trio op.8 can be safely ignored). Although op.40 began life as a cello sonata, it was published soon after in a viola version made by – of all people – the cellist who had premiered it, Viktor Kubatsky. Another transcription was prepared by the violist Yevgeny Strakhov, who generally chose higher octaves, while Kubatsky kept to the original pitch whenever possible. Neither could avoid the occasional jolt when changing register. Pierre Lénert has made his own version, which arrives at different solutions and is on the whole extremely convincing.
Lénert, principal viola – or, as the French say, 'super soliste' – at the Paris Opéra possesses a technique of 'super' qualities, including an uncommonly ample tonal palette (he plays an instrument by Jean-Baptiste Vuillaume). He soars lyrically in the youthful exertions of op.40, and is not afraid to go down to a wan, ashen tone when Shostakovich's tortured muse requires it, especially in the valedictory op.147 (the composer's last work, finished in hospital only days before his death). The latter piece includes some idiosyncratic double- and multiple-stopping, demands that are met triumphantly by Lénert with some impressively sonorous chord playing, especially in the cadenzas. He is well partnered by Eliane Reyes's assertive playing, and the duo has been vividly recorded.
CARLOS MA?IA SOLARE