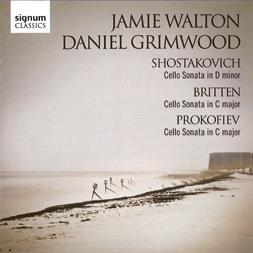 The Strad Issue: January 2012
Description: A classic repertoire selection let down by an unsympathetic recording balance
Musicians: Jamie Walton (cello) Daniel Grimwood (piano)
Composer: Shostakovich, Britten, Prokofiev
This grouping of sonatas bound together by the remarkable inspiration of Rostropovich is a well-worn combination on disc. Despite a slightly over-ambient recording, both players give an earnest and sensitive account of the Shostakovich, particularly in the lyrical and intense first movement. The contrasting burlesque of the ensuing scherzo has considerable impact, although a flawed recording balance with a backwardly placed piano leads to a loss in clarity – something that is even more noticeable in the Largo, performed here at a surprisingly brisk but convincing tempo.
Britten's powerful Sonata receives an idiomatic and expressive rendition, although the frenzied intensity that builds up in the middle the first movement never quite ignites. Likewise, the fiery drama of the pizzicato Scherzo seems a little tame. The Elegy, however, flowers into a dark and troubled lyrical offering, and both the ensuing Marcia and Moto perpetuo are compellingly dark, menacing and turbulent.
Again my reservations over the recording surface in the Prokofiev Sonata, though the two artists' interpretation effectively depicts the almost cinematic scene changes in the first movement. Whimsical in the Moderato but with a troubled edge, the players prepare us for the underlying grey shadows of the invention which in truth never entirely smiles.



Joanne Talbot