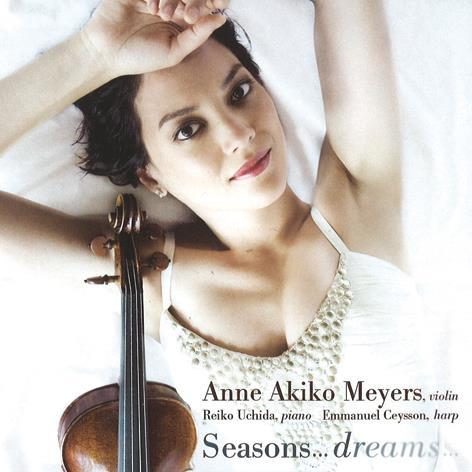 The Strad Issue: January 2011
Musicians: Anne Akiko Meyers (violin) Reiko Uchida (piano) Emmanuel Ceysson (harp)
Composer: Beethoven, Debussy, Duke, Fauré, Gershwin, Gruber, Kosma, Pritske & Wagner
After beginning with a bang 22 years ago, Anne Akiko Meyers's recording career seems to have retreated into the mood-music market. Her albums have titles like 'Smooth Classics', 'Classical Ecstasy', 'Violin for Relaxation' and 'Smile'. This one, entitled 'Seasons… Dreams…', is mostly pleasant in a wistful, nostalgic way and some of the ten performances are lovely, notably Debussy's Clair de lune and Beau soir, Wagner's Träume, Fauré's Après un rêve, Gershwin's Summertime and a combination of Kosma's Tenderly and Autumn Leaves. Vernon Duke's Autumn in New York is nicely jazzy.
Two performances stick out like sore thumbs: Schnittke's discordant take on Gruber's Silent Night, the point of which escapes me, and Beethoven's 'Spring' Sonata. This is quite a tough reading and although the pianist is good and there are fine things in the Adagio, the outer movements are full of unspontaneous contrivance and the scherzo is wholly lacking in humour.
The accompaniments by Reiko Uchida and Emmanuel Ceysson are unobtrusively excellent and the recordings are easy on the ear. I find much of it a bit plaintive and cannot like the Beethoven, but those who want their senses constantly caressed may feel differently.



TULLY POTTER