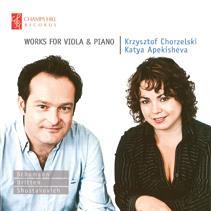 The Strad Issue: January 2012
Description: Authoritative performances of three viola classics
Musicians: Krzysztof Chorzelski (viola) Katya Apekisheva (piano)
Composer: Schumann, Britten, Shostakovich
Best known as the viola player of the Belcea Quartet, Krzysztof Chorzelski presents his credentials as a recitalist of the first rank with this CD. In well-honed partnership with his fellow Royal College of Music alumna Katya Apekisheva, he offers authoritative readings of three repertoire staples. Schumann's Märchenbilder fly by at refreshingly fleet tempos. Chorzelski makes much of the 'horn calls' in the viola part, but I would have welcomed a more forward balance of the piano in the closely knit part-writing, especially in the first movement. In a perceptive introductory booklet note, Chorzelski compares the racing third movement to Schubert's song The Erl-King, and he surely has a point.
I was intrigued, however, by his contention that Britten intentionally quotes the Shostakovich chiffre 'D–S–C–H' in his Lachrymae. Apart from the fact that both men only met long after the piece's composition, the bit in question is itself a quotation of a Dowland song, written c.1600. Leaving such minutiae aside, Chorzelski characterises Britten's 'reflections' very aptly, with daring rubato, a nicely lilting Alla valse and crystal-clear harmonics.
The Shostakovich Sonata receives an understated performance, with both players resolutely refusing – to the work's benefit – to wear their hearts on their respective sleeves. The recording parades Chorzelski's dark, manly tone to the best effect, and a typically erudite booklet note by Malcolm MacDonald adds to the enjoyment.


Carlos María Solare