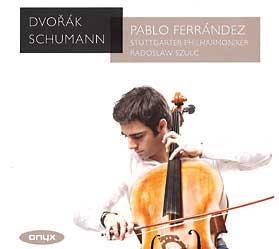 The Strad Issue: January 2014
Description: Heartfelt accounts of of two Romantic cello concertos
Musicians: Pablo Ferrández (cello) Stuttgart Philharmonic/Radoslaw Szulc
Composer: Schumann, Dvorák, arr.Casals
Schumann's Cello Concerto is nothing if not full of feeling and Pablo Ferrández, on this impressive disc, manages to play with huge emotion while still keeping his interpretation light and free from overindulgence. He cherishes the opening subject as if every note is precious, and its return in the development sounds almost choked with emotion. The slow movement's duet is beautifully done, its rubato exquisite, the combined cello sound like being wrapped in velvet. Ferrández, a pupil of Natalia Shakhovskaya and Frans Helmerson, makes light of the technical challenges of the finale, although ensemble is not quite as slick.
But it is in the Dvorák that Ferrández really announces himself as a cellist of stature. There's a big, focused sound to the double-stops in his commanding opening statement and every mood change is convincing – one minute in a reverie, the next he's forcefully attacking the strings or searingly soaring. The Adagio is notable for the lyricism and grace of Ferrández's playing, and he enters in the finale with authority, only a slight blurring of his rapid slurred notes and a recorded sound rather lacking in depth marring an otherwise captivating performance.
A reverent, fluid Song of the Birds from the young Spaniard in tribute to his namesake closes the disc.
JANET BANKS