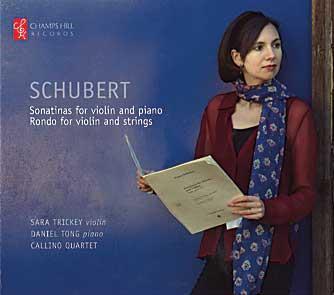 The Strad Issue: January 2014
Description: Sensitive accounts of four works from 1816
Musicians: Sara Trickey (violin) Daniel Tong (piano) Callino Quartet
Composer: Schubert
In order to improve sales of sheet music to amateur musicians, Schubert's posthumous publisher downgraded the composer's three violin sonatas to the less demanding medium of sonatina. In recent times they have been restored to their correct title, and there comes the rub – how, as a performer, does one approach them? This new Champs Hill release uses both terms, and in the event the 'sonatina' title concurs with the lightweight approach of the violinist here, Sara Trickey, who produces an elegant tonal quality with sensitive suppleness and subtle shading.
There are times when one feels that Schubert was composing piano works decorated by the violin, particularly so in the second movements of the D major and A minor sonatas, an impression heightened by the generous balance given to Daniel Tong's piano. There is an abundance of charm in these players' elfin-like approach to the final movement of the D major Sonata, and no lack of drama in the finale of the G minor. Trickey's intonation and clarity are spotlessly clean throughout.
The disc ends with the seldom-performed Rondo for violin and strings composed at the same time as the sonatas. Here, Trickey's violin dances musically around the playing of the young Callino Quartet. Sound quality throughout is very pleasing.


DAVID DENTON