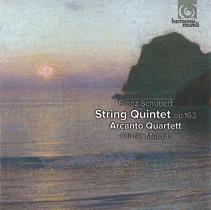 The Strad Issue: January 2012
Description: An account that brings out the depths of light and shade in Schubert's masterpiece
Musicians: Arcanto Quartet, Olivier Marron (cello)
Composer: Schubert
By employing two cellos in place of the more conventional pair of violas, Schubert heightened the textural contrasts that he had available to him to express both his own tragic outlook and the gaiety in the outer movements. Thanks to the generous viola sound of Tabea Zimmermann, this performance takes that polarity one stage further with a warmth that isolates the composer's one outgoing moment of angst in the second movement.
The unhurried performance of the first movement, with the inclusion of the exposition repeat, extends to almost 20 minutes. Its remarkably clear inner detail is achieved by the meticulous observance of the dynamic markings, particularly those in the more quiet passages. There is certainly sadness in the opening of the following Adagio, though the players move the music forward in the outer sections at a faster pulse than we usually hear.
By contrast the scherzo has considerable vitality, with violinist Antje Weithaas's nimble left hand lending admirable clarity to the fast-running passages. This lively approach continues into the brilliantly played finale, bringing out its Hungarian flavour. Throughout, the intonation is impeccable and, thanks also to excellent sound quality, this newcomer can be strongly recommended, even in a catalogue well blessed with outstanding recordings.



DAVID DENTON