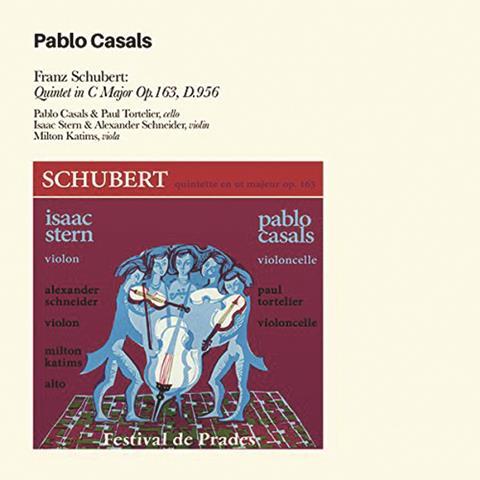 The Strad Issue: December 2016
Description: An early outing for Schubert's Quintet, played con amore
Musicians: Pablo Casals, Paul Tortelier (cellos) Isaac Stern, Alexander Schneider (violins) Milton Katims (viola) Mieczyslaw Horszowski (piano)
Composer: Schubert, Schumann
Catalogue number: MINUET 428419
You wait 50 years for a great record of Schubert's C major Quintet, then two turn up. First off the blocks in January 1951 were the Hollywood Quartet and Kurt Reher; then in July 1952 this all-star version was recorded at the Prades Festival: five super-egos subsumed into a devoted but stirring account.
Sony's official edition has more 'presence' but this transfer, from an LP, sounds excellent. The introduction has firm forward propulsion. Even the cello duet, where Tortelier supports Casals's quite plain playing with touching sensitivity, is kept moving. There is terrific impetus going into the development and in the recapitulation Tortelier is again sensitive with his pizzicatos. The ending is beautiful.
The Adagio is intense rather than over-slow; Tortelier's pizzicatos are superb; groans from Casals only increase the tension; the central section has tremendous thrust; the transition to the reprise of the first theme does not slacken the tension; Stern's playing is lovely. They make a hearty attack on the scherzo and in the trio Katims's beautiful tone comes to the fore. They attack the finale with gusto but relish the warmth of the second theme and their performance is thoroughly gemütlich, with dynamic variety and a well-timed ending.
The Schumann from two days later is nice to have, but does not hang together like Casals's 1928 recording or that of Gilels–Kogan–Rostropovich.
Tully Potter