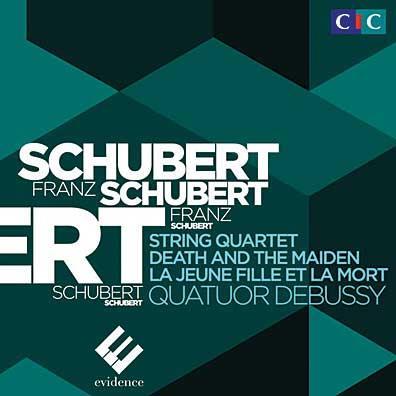 The Strad Issue: January 2014
Description: Anguish and intensity characterise a potent coupling
Musicians: Debussy Quartet
Composer: Schubert, Janácek
Women and death seem to be the rather morbid connection between the two works on this disc. The Debussy Quartet takes an attacking approach to Schubert's 'Death and the Maiden', driving through the first movement, digging into the strings. Even in the lilting second subject they make more of the composer's accents than his charm. The second movement has constant intensity, even in its gentlest moments, exemplified by the leader Christophe Collette's anguished moulding of Schubert's filigree patterns – and by his big vibrato. There is plenty more attack in the last two movements, which are rich-toned and forceful. When Schubert relaxes, the playing is beautiful, but this is in the main an anguished performance.
There is even more anguish in Janácek's First Quartet. Dynamic contrasts are emphasised, melodies colourfully shaped, the sudden outbursts visceral. The gentler passages of the third and fourth movements are sensitively done, understated but full of purpose, and the violent ponticello eruptions of the third movement are positively disturbing. It is an unsettling performance, and that is a compliment.
The recording itself leaves something to be desired. It is close-in, which gives a lot of obtrusive breathing, the balance isn't always clear, and the hall has a thunderous acoustic that can fill a bar of Schubertian silence.
Tim Homfray