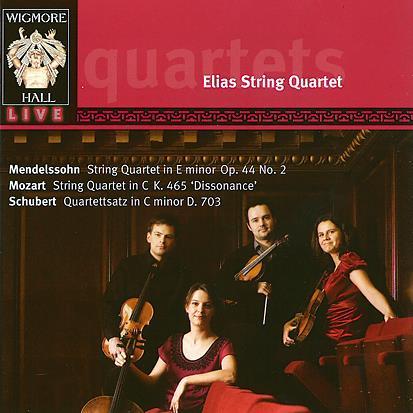 The Strad Issue: January 2009
Musicians: Elias Quartet
Composer: Schubert, Mozart, Mendelssohn
Having recently left the Sheffield-based Ensemble 360, the members of the Elias have given themselves the freedom to forge a career as one of the most compelling of the UK's many young string quartets. Here, caught on the wing at the Wigmore Hall last December, they show how gifted musicians can both speak as individuals yet play in complete unanimity.
That fact brings to our notice more inner detail in Mozart's 'Dissonance' Quartet than we normally encounter, and the unhurried pace allows every dynamic nuance to form part of long sweeping phrases that fit perfectly into the context of the work as a whole.
The players present Schubert's Quartettsatz with a lyric intensity that is entirely appropriate, and they match it with an ardent and effusive approach to Mendelssohn's E minor Quartet, particularly emphasising the dramatic aspects of its outer movements. Their technical quality throughout is immaculate, while the internal balance brings a transparency to the sound.
All performances are readily recommendable even in an already crowded catalogue. The audience responds vociferously at the close and encourages from the players, by way of an encore, a charming account of the third movement of Mendelssohn's D major Quartet. The engineers have provided a warm and very detailed sound.
DAVID DENTON