Excellent live-recorded Beethoven series reaches its fourth instalment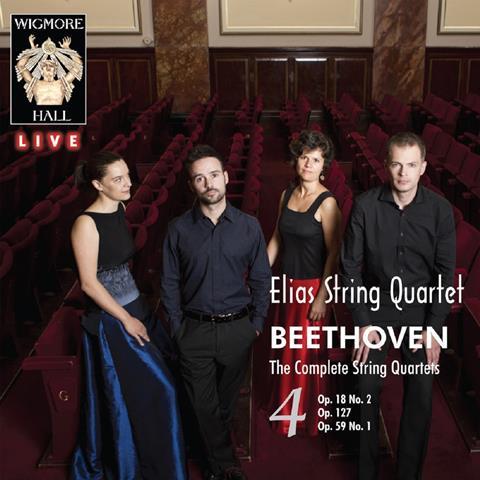 THE STRAD RECOMMENDS
The Strad Issue: March 2018
Description: Excellent live-recorded Beethoven series reaches its fourth instalment
Musicians: Elias Quartet
Works: BEETHOVEN String Quartets: no.2 in G major op.18 no.2, no.7 in F major op.59 no.1 'Rasumovsky', no.12 in E flat major op.127
Catalogue Number: WIGMORE HALL LIVE WHLIVE 0089/2 (2 CDs)
This is disc number four in the Elias's complete Beethoven cycle, and very fine it is too. The G major Quartet op.18 no.2 has playing of constant understated sensitivity. The first movement abounds in subtle detail, and it all sounds entirely natural, such that one might wonder if the musicians are doing anything much at all – but of course they are. The scherzo is spring-heeled, with the phrase-shaping slightly heightened to bring wit and vitality, and in the finale they bounce off Beethoven's accents, sometimes with gusto, at others gossamer light.
In the opening movement of the first 'Rasumovsky' Quartet op.59 no.1 the players sound both joyfully confident and seeming to encounter the music for the first time – and be constantly delighted at what they find. The clipped conversations of the second-movement Allegretto have a bone-dry humour to them. The third movement is an Adagio molto, a great musical paragraph beautifully sustained. The finale is full of earthy good humour. They set a broad tempo in the first movement of the E flat major Quartet op 127.
First violinist Sara Bitlloch plays with a beguiling sweetness of tone and a good sprinkling of portamento (a constant feature of her playing on the CD), through which Beethoven's sudden disjointed outbursts come in vivid contrast. The expressive unfolding of the slow movement melody is spellbinding, and the variations are each wonderfully vivid in their own way. In the finale the bows bite into Beethoven's staccato crotchets and the flowing quavers weave delightfully. It is a superb CD and an excellent recording.
TIM HOMFRAY