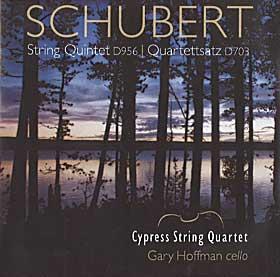 The Strad Issue: January 2014
Description: Admirable performances that fail to meet the standards of the best on disc
Musicians: Cypress Quartet, Gary Hoffman (cello)
Composer: Schubert
If you heard these performances in a concert, you'd go home happy. Technically they are absolutely accomplished, characterised by a lean Classical timbre. As an ensemble, the expanded Cypress Quartet voices the harmonies intelligently, and exhibits a collective ear for rubato and nuance. Yet place it in the context of the awesome army of recorded competition in this repertoire and limitations surface. For example, the players' range of dynamics is restricted: the violins in particular sound like separate strands, and the ensemble in certain more homophonic passages needs to effect a more homogeneous timbre. The dry recording significantly impacts on these issues, not least in the lower string pizzicatos, which are instantly cut dead.
Judging tempos in the Quintet is a particularly difficult area. The first movement is long, especially given the exposition repeat which is observed here, and the development has a tendency in this performance to become laborious, with the impetus demanding more naturalness, and yet to be forward-looking as well. Equally, the Adagio needs to have a timeless quality and yet flow. Here the Cypress players, aided by some wonderfully expressive playing from cellist Gary Hoffman, are more successful, and the melodic material is eloquently interpreted. They muster great energy in the turbulent and anguished middle section, and a feisty delivery characterises the more rustic scherzo and Allegretto.
The Quartettsatz has better blending, and the Cypress's reading is idiomatic and musical. Despite that, these interpretations are not front runners.
Joanne Talbot