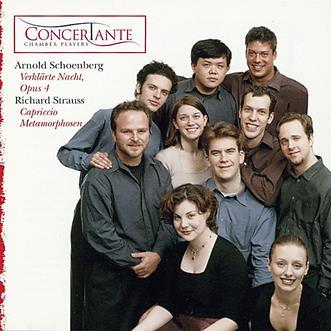 The Strad Issue: January 2007
Musicians: Concertante Chamber Players
Composer: Schoenberg, Strauss
This is an attractive disc from one of the most enterprising chamber groups to emerge from America over the past decade. The performances, if slightly mixed, feel fresh, committed and versatile, and the programme, bringing together three 20th-century masterworks, is both succulent and desirable.
In Verklärte Nacht these young players seem acutely aware of the drama that gave rise to the music: this is an urgent, haunting performance, underlined by brusque tempo changes, in which the uneasy tension generated (in Richard Dehmel's stark poem) by a pregnant woman's bleak admission of unfaithfulness is searingly captured, and her lover's compassionate forgiveness emerges in glowing colours. The lovely solo details include conspiratorial susurrations of viola and violin as the mood lightens.
This kind of insight is spasmodically evident in the original seven-string version of Metamorphosen, dating from 1945 when Strauss had seen Munich and Dresden blitzed, and finished the month Berlin fell. One has some qualms about pacing – not the resigned start, which seems wholly appropriate (Strauss annotated the score 'Lament for Munich'), but more the rather frenetic pace later on, where some definition gets lost. There is a spring to the strings' sound, as with period instruments, which adds flavour, layering and lustrous warmth, and the individual solo voices are profoundly expressive.
The other delight on this disc is the magical sextet from Capriccio: another work that betokens the end of a cultural era. The tuning just holds, the flow of the music carries one joyously through, and the players bring out a layer of Schubertian drama in Strauss's writing. The recorded sound inclines to the harsh.
Roderic Dunnett