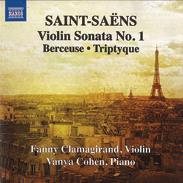 The Strad Issue: January 2011
Musicians: Fanny Clamagirand (violin) Sinfonia Finlandia Jyväskylä/Patrick Gallois
Composer: Saint-Saëns
Strength of rhetoric and hauntingly memorable melodies make Saint-Saëns's violin concertos highly effective compositions, especially the large-scale and detectably Mendelssohnian Second. The fiery playing of Fanny Clamagirand, an ex-student of Jean-Jacques Kantorow at the Paris Conservatoire and recipient of many prominent awards (including the Fritz Kreisler Prize in 2005), is very well suited to these works. The opening of the Third Concerto (programmed first) sets the tone for the rest of the disc, with muscular and exciting playing – the opening of the finale is equally exciting and evidences a powerfully articulated sound, as does the opening of the First Concerto. Clamagirand has a well-nourished tone with a powerful vibrato and fantastic depth and yet transparency of tone in higher registers. This can be heard to good effect in slow movements, such as the cantilena melody in the third concerto's middle movement.
As usual, Naxos provides an immaculate recording. The Sinfonia Finlandia Jyväskylä under Patrick Gallois performs dutifully, albeit with some questionable wind tuning and what can only be termed tonal dullness in places – as in some of the tutti sections of the First Concerto. This, and occasional moments of stridency in Clamagirand's playing slightly impair this disc, but it is nonetheless a splendid new release.


David Milsom