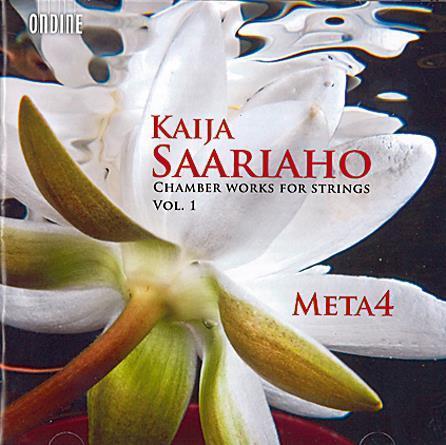 The Strad Issue: January 2013
Description: Individual quartet members come to the fore in a disc of contemporary sounds
Musicians: Meta4, Anna Laakso (piano) Marko Myöhänen (electronics)
Composer: Saariaho
It's hard to imagine more passionate, committed or meticulously crafted accounts of Finnish composer Kaija Saariaho's exquisitely strange chamber music for strings than these glowing performances by her compatriots in the Meta4 quartet. This is a beautifully paced disc, growing from solo and duo pieces to the large-scale Nymphéa for quartet and electronics, and it also serves to highlight both the individual and the corporate talents of the four players.
Second violinist Minna Pensola, for example, brings a remarkable range of colours to the microtonal waverings and keening glissandos of the opening Tocar, and she delivers a movingly intimate account of the hushed Nocturne, written in memory of Lutoslawski. First violinist Antti Tikkanen is more fiery in the sonata-like Calices, but there's a glassy purity to her sound, especially in the half-heard tones of the fragile slow movement. Violist Atte Kilpeläinen copes with the technical demands of the eerie Vent nocturne magnificently, and cellist Tomas Djupsjöbacka brings a thrilling spontaneity to the volatile moods of Spins and Spells.
The disc's high point, though, is the concluding Nymphéa, whose icy poetry the Meta4 players deliver in an astonishingly broad palette of sounds, extended even further through the piece's live electronic processing. They coalesce as a single voice, with immaculate phrasing and articulation, only to spin off again into contrasting and competing material. It's a breathtaking performance, bewitching in its strangeness, and its incisiveness is only emphasised by the purity and warmth of the recorded sound.



David Kettle