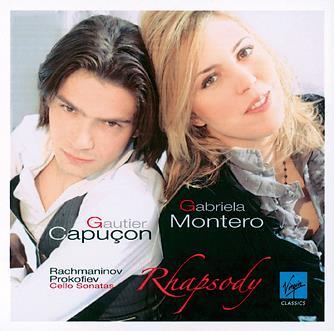 The Strad Issue: January 2008
Musicians: Gautier Capuçon (cello) Gabriela Montero (piano)
Composer: Rachmaninoff, Prokofiev
There's nothing ground-breaking about this CD featuring heavily recorded repertoire. Excelling, as they do, is therefore all the more impressive. Gabriela Montero already has an enviable reputation as an improviser on the piano, but in the Rachmaninoff Cello Sonata she displays awesome virtuosity and a range of colours that recall Martha Argerich's mercurial brilliance. And although the cello line is littered with sumptuous melodies, it is the mighty piano part that really makes any performance. By adopting a sparkling touch in the right hand, Montero avoids clouding the cello, though the recording throughout is astutely balanced and warm. Gautier Capuçon, however, resists any indulgence here, yet musters a searing intensity in the vocally hewn melodies – poignant in the slow movement, yet fiery and passionate in the concluding finale. Two chestnuts conclude the disc's Rachmaninoff 'Act'; these musicians clearly enjoy such inspired lyricism.
Prokofiev's sonata is graced by plenty of new recordings each year, yet this duo's highly theatrical concept of the work really makes an enthralling impact. The players highlight the sound of bells that frame the work, and the quixotic mood-changes are handled much in the way of a stage curtain lifting to reveal a new scene. Again, Montero's command of colour really helps establish a magical fantasy halfway through the first movement, and Capuçon characterises the ensuing whimsical theme with wit and imagination. A bold delivery of the last movement laden with grandeur signals the end of the play; the story complete, we are mesmerised.
Joanne Talbot