Impressive immersion in astringent and unconventional unaccompanied sonatas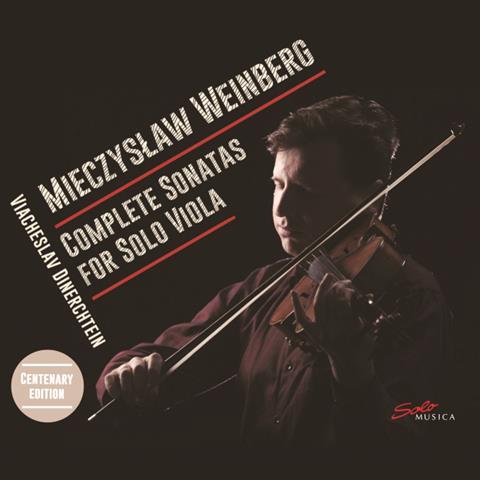 The Strad Issue: March 2020
Description: Impressive immersion in astringent and unconventional unaccompanied sonatas
Musicians: Viacheslav Dinerchtein (viola)
Works: Weinberg: Complete Sonatas for Solo Viola
Catalogue Number: Solo Musica SM 310 (2 CDs)
The present complete set of Mieczysław Weinberg's unaccompanied viola sonatas is already the second one, surely a sign that the music of this composer, who until not long ago was all but unknown to the general public, is deservedly on its way into the central repertoire. Weinberg was friends with the elite of Soviet virtuoso instrumentalists – Oistrakh, Rostropovich, Richter et al – and wrote music tailored to their extraordinary capacities. I have come to think of the four monumental viola sonatas as 'Hindemith on steroids'. As opposed to the German composer, however, Weinberg wasn't a string player – his unconventional writing can make these pieces rather intractable from a technical point of view.
The First Sonata, written in 1971 for Fyodor Druzhinin, begins imposingly with a series of majestic chords that will be reprised in the third movement. In between there scurries a scherzo with klezmer evocations, and the sonata ends with variations on a theme that recalls Shostakovich's most impenetrable poker-face mood. From these elements – intricate chords, echoes of Jewish music and grimly obstinate passages – are also built the other three sonatas.
Accompanying an informative article on the music by David Fanning, Viacheslav Dinerchtein writes eloquently in the beautifully produced booklet about his discovery of Weinberg's sonatas. He has profitably taken his time for immersing himself in the composer's highly personal sound world and, needless to say, to get his fingers around the music's enormous difficulties. The most impressive results, and the lively recorded sound, can be heartily recommended to the ever growing group of Weinberg enthusiasts.
CARLOS MARÍA SOLARE