Capturing Haydn's charm and wit plus an interesting attribution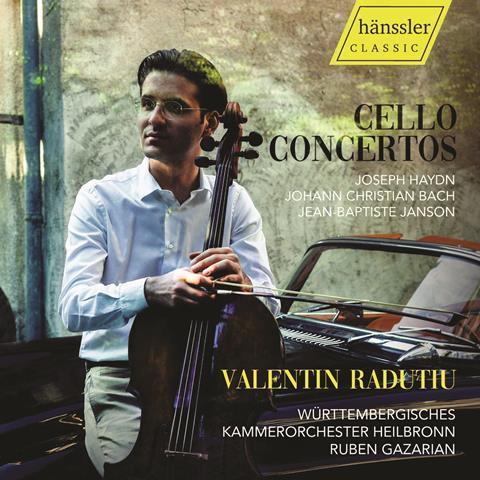 The Strad Issue: March 2020
Description: Capturing Haydn's charm and wit plus an interesting attribution
Musicians: Valentin Radutiu (cello) Württemberg Chamber Orchestra/Ruben Gazarian
Works:: Haydn: Cello Concerto in D major Hob VIIb.2. Casadesus (attrib. J.C. Bach): Concerto for Cello and Strings in C minor WC77. Janson: Cello Concerto in D major
Catalogue Number: Hänssler HC16082
'Haydn, J.C. Bach, Janson' states the album cover. Only on the back do you discover the J.C. Bach Concerto is in fact one of early 20th-century violist Casadesus's fakes. Stylistically too Baroque for J.C. Bach, it features an expressive passage in a suspiciously low range and sits rather strangely with the other two, more galant concertos.
From a purely listening perspective, however, this is a good alternative to current period-instrument Haydn concertos. The players major on the dramatic, with rhetorical pauses and wide contrasts in dynamic and expression. Radutiu draws a beautifully lyrical tone from his 1685 Rugeri cello, particularly in its highest reaches, and the intricate thumb-position passagework is exquisitely accomplished. The solo cello is always very much to the fore in the recording, the orchestral sound not quite as well focused. There are several interesting cadenzas, presumably Radutiu's own, with a surprisingly avant-garde one in the Haydn's first movement, including high glissandos and sul ponticello, but no information on them in the booklet.
Travelling cello virtuoso Jean-Baptiste Janson, a contemporary of Haydn, certainly knew how to charm his audience, with a succession of delightful themes, a lazily elegant Adagio and more than one echo of Haydn's concerto in the same key.
JANET BANKS