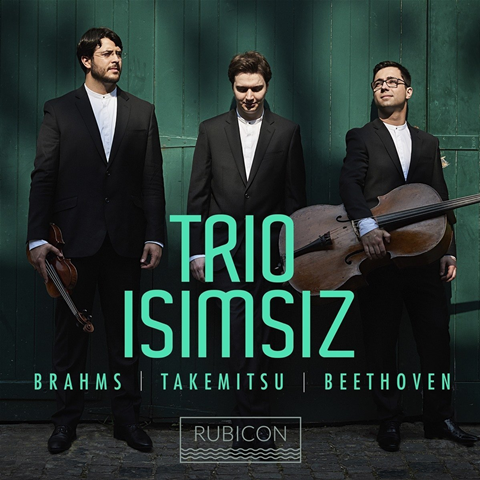 The Strad Issue: March 2018
Description: This trio with no name is one to remember
Musicians: Trio Isimsiz
Works: BRAHMS Piano Trio no.3 in C minor op.101, TAKEMITSU Between Tides, BEETHOVEN Piano Trio no.5 in D major op.70 no.1 'Ghost'
Catalogue Number: RUBICON RCD1013
Trio Isimsiz (Turkish for 'no name') probably could have successfully entered the recording studio a little while ago, given it formed back in 2009. Instead, though, its members, Erdem Misirlioğlu, Pablo Hernán Benedí and Michael Petrov, have been busy enjoying their individual and collective successes. The result of all this time-biding is a debut recording we should all listen to.
Brahms's Allegro kicks things off in knockout fashion, with a stylistic approach as taut as Brahms's actual writing is concise. The players display crisply delineated articulation and sparingly employed vibrato/pedal, lending a clean, high-definition quality to the music's turbulence. The Andante brings magic of a different character, violin and cello fused tenderly and playing with a less-is-more approach to expressivity, complemented by an often achingly soft and luminous keyboard touch from Misirlioğlu, captured in clear recorded sound.
Another highlight is the 'Ghost' Trio's Largo: a study in tension and dynamic control that opens with a piano so soft that you think they've left themselves no further to go, until they reach the score's first pianissimo at bar 18 and prove you wrong. Add the cleverly chosen central Takemitsu with its 20th-century timbral tricks, and it's hard to know how Trio Isimsiz could have bettered such artistry and distinctiveness.
CHARLOTTE GARDNER