The player's the real star in this somewhat over-coloured music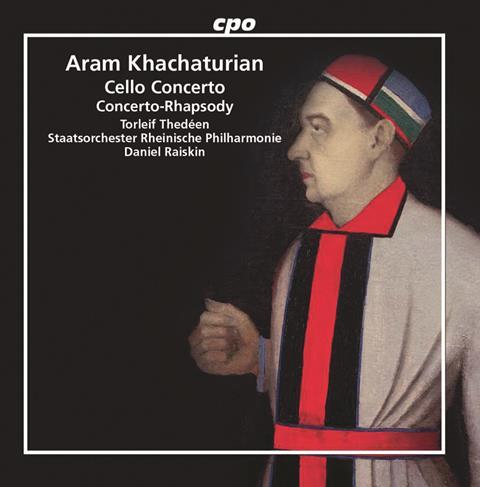 The Strad Issue: July 2019
Description: The player's the real star in this somewhat over-coloured music
Musicians: Torleif Thedéen (cello), Staatsorchester Rheinische Philharmonie/Daniel Raiskin
Works: KHACHATURIAN Cello Concerto, Concerto–Rhapsody
Catalogue Number: CPO 5550072
Shostakovich goes to Hollywood in the self-consciously 'Armenian' concertante writing of Aram Khachaturian with its sweeping (though not always memorable) themes, big-picture orchestration and major–minor fluctuations of harmonic direction.
You would be hard-pressed to guess that the peerless chamber musician Sviatoslav Knushevitsky was the intended soloist for the Cello Concerto of 1946. Its opening timpani roll surrenders a hostage to fortune; anyone anticipatinrevg drama worthy of Grieg or Schumann will be disappointed despite the generous tone and unstinting energy of Torleif Thedéen. He may not cultivate the aristocratic line of Daniel Müller-Schott on a 2004 Orfeo recording, but his big-boned playing pushes through Khachaturian's sequential repetitions in a part that shares nothing with Elgar's Concerto beyond its key (though there is a near-quotation of Elgar's opening gambit around eight minutes in). Müller-Schott also enjoys more sharply focused support from the CBSO and Sakari Oramo, but there's nothing wrong with the CPO engineering of Khachaturian's rather relentlessly bright, Technicolor textures.
Khachaturian wrote the Concerto–Rhapsody in 1963 as a vehicle for Rostropovich, taking full advantage of its soloist's extrovert temperament and bombproof technique. Thedéen follows suit with tremendous assurance so that all but the most exacting listener may lay aside misgivings over the overblown orchestration and diffuse form with its excessive reliance on the breast-beating main motif. According to Khachaturian, 'A Concerto is music with chandeliers burning bright, a rhapsody is music with chandeliers dimmed, and the concerto–rhapsodies are both.' His lighting design may want for subtler shades, but Thedéen is a 100-watt soloist.
PETER QUANTRILL