An affecting farewell from one of the major quartets of today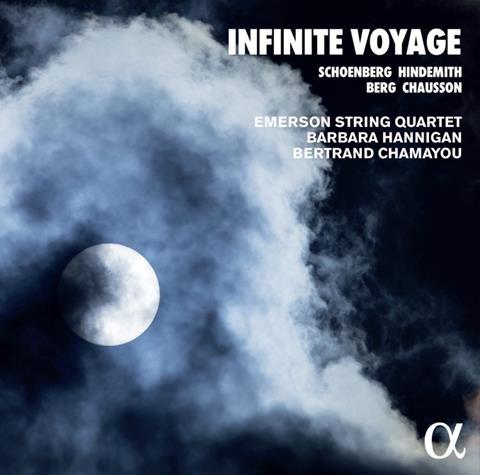 THE STRAD RECOMMENDS
The Strad Issue: October 2023
Description: An affecting farewell from one of the major quartets of today
Musicians: Emerson Quartet, Barbara Hannigan (soprano) Bertrand Chamayou (piano)
Works: Berg: String Quartet op.3. Chausson: Chanson perpétuelle op.37. Hindemith: Melancholie op.13. Schoenberg: String Quartet no.2 in F sharp minor op.10
Catalogue number: ALPHA ALPHA1000
Here is the final recording from the Emerson Quartet, after a career of 47 years. The main work, placed last, is Schoenberg's Second Quartet, with soprano Barbara Hannigan, who also features in two other works here. This is a terrific, challenging valediction. The disc opens with Hindemith's Melancholie, settings of poems by Christian Morgenstern. The composer gives his own instrument, the viola, a good workout here, well met by Lawrence Dutton, to match the purity of Hannigan's singing.
Berg's String Quartet op.3 is played with meticulous clarity and accuracy, illuminating the enormous wealth of detail and the long lines of his complex narrative. Chausson's Chanson perpétuelle is a setting of another doleful poem, by Charles Cros, for which Hannigan and the Emerson are joined by pianist Bertrand Chamayou, in playing of appropriate tendresse, supple and atmospheric.
The first movement of Schoenberg's quartet has a compulsive flow, and there is an element of grotesque comedy to the scherzo, with its constant shifts of nervy emotional states. The contrapuntal lines of the third-movement 'Litanei' are finely shaped, with Hannigan embedded as if part of a great chamber quintet. The passing of the arabesque lines that open the last movement is perfectly done, and, as Hannigan evokes Stefan George's 'air from another planet', the five of them do indeed conjure something eerie and wholly captivating. The recording is forensically clear.
TIM HOMFRAY