Poised and polished composer portrait featuring music written 20 years apart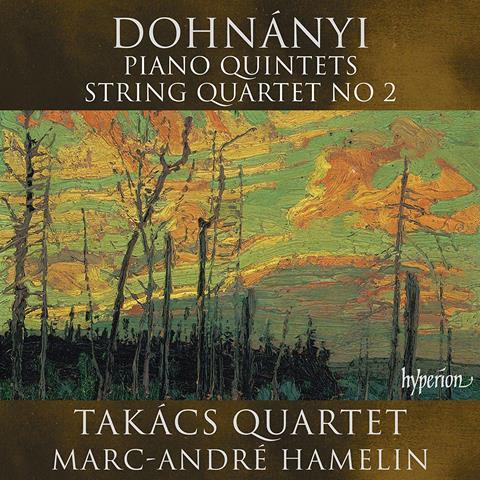 The Strad Issue: January 2020
Description: Poised and polished composer portrait featuring music written 20 years apart
Musicians: Takács Quartet, Marc-André Hamelin (piano)
Works: Dohnänyi: String Quartet no.2; Piano Quintets nos.1 & 2
Catalogue Number: HYPERION CDA68238
The awkward key of D flat major casts flickering shadows of forest-deep Romanticism over Dohnányi's Second String Quartet. The spectre of Brahms briefly rises to be banished from – or accommodated within – a cyclical three-movement structure owing more to Liszt and the Schoenberg of Verklärte Nacht.
The long and eventful Molto adagio finale especially demands Beethovenian reserves of vision and rigour, which are long-established hallmarks of the Takács Quartet. The players make the most of the work's high contrasts with risky portamento belonging to the composer's Austro-Hungarian world as well as their own collective heritage, making for a technically pristine but hot-tempered performance, altogether richer than rivals such as the Gabrieli and Fine Arts quartets.
In the 17-year-old composer's precociously assured op.1 Quintet the Takács' principal rivals are themselves – with cellist András Fejer the sole perennial – on an impassioned but unkempt Decca recording from 1988. The quartet's latest incarnation, its first recording to feature Harumi Rhodes on second violin, uses an inch or two of extra space wisely, and Hyperion's superior engineering opens out Dohnányi's textures beyond the conventional piano-versus-quartet opposition.
Almost 20 years later, Dohnányi is still scratching a Brahmsian itch in the Second Quintet, but his own maturity as a pianist is reflected in the sophisticated balance between piano and strings. I like very much the knowing, café-vibrato of Geraldine Walther's viola solo to open the central Scherzo; Marc-André Hamelin's sparkling fingerwork in the goblin-dance trio, and the Takács' searching sense of line – more Beethoven again – in the grave counterpoint of the finale's slow introduction. Only with the finale proper do nostalgia and anxiety come head to head – this is 1914, after all – and Hamelin and the Takács bring the conflict to a conclusion as provisional as it is finely poised.
PETER QUANTRILL