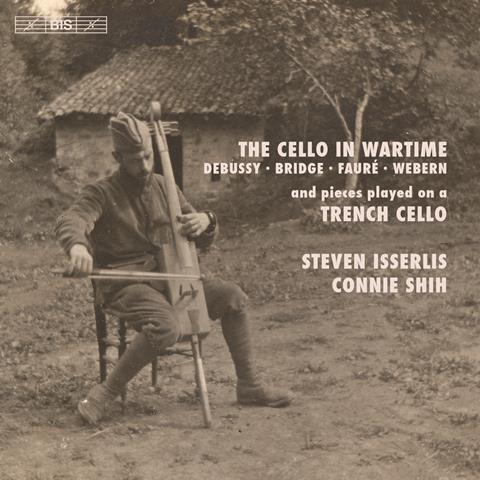 The Strad Issue: February 2018
Description: Thought-provoking First World War-era project from a cello master
Musicians: Steven Isserlis (cello, 'trench cello'), Connie Shih (piano)
Works: BRIDGE Cello Sonata, DEBUSSY Cello Sonata, FAURÉ Cello Sonata no.1 in D minor op.109, WEBERN Drei kleine Stücke op.11, SAINT-SAËNS The Swan, PARRY Jerusalem, NOVELLO Keep the Home Fires Burning, TRAD God Save The King
Catalogue Number: BIS 2312 (SACD)
Steven Isserlis recorded the sonatas by Debussy and Fauré back in the 1990s; it's high time that he revisited them, especially in the context of a superior recording balance and some super-fine accompaniment (if that isn't unfair) from Connie Shih. Her textural delicacy and command of the most subtle shades of rubato aid the cellist in crafting performances that are no less keenly attentive to the letter of the score but, now even more sharply characterful. As much as the Debussy is now a half-lit act of sudden contrasts and violent emotion (so too the tiny Webern pieces), Isserlis's way with the Fauré impresses through its melodic simplicity, especially the long and contained stretches on the D string in the quietly rapturous slow movement.
The Frank Bridge Sonata is new to the cellist's discography. He eases into the first movement's brooding with the experience of one long familiar with the composer's even more angst-ridden Oration for cello and orchestra. The sense of strain, of gut and sinews stretched, is palpable both at the movement's romantic climax and in the much more disturbed central scherzo of its broadly conceived counterpart.
Whether or not the ghastly shadow of war can be 'heard' in these works is moot. Unquestionable, however, was the ingenuity of instrument makers in creating viable instruments from what was not much more than a wooden box – one of which found its way to the trenches of the First World War and still sounds well in the hands of Isserlis on the four short 'encores' on this disc. There is, thankfully, nothing mawkish about this reimagining of a poor soldier with his 'trench cello'. Only the sense of history comes back to haunt us.
PETER QUANTRILL
Read: 'I sort of fell in love with it somehow' – Steven Isserlis's trench cello encores