A fantastic fusion album finds fertile ground between Hungary and Italy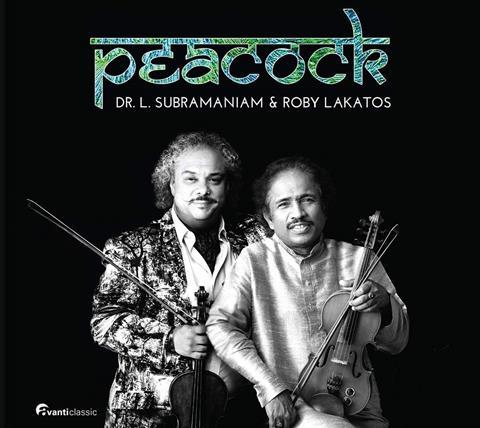 The Strad Issue: November 2020
Description: A fantastic fusion album finds fertile ground between Hungary and Italy
Musicians: Dr L. Subramaniam (violin) Roby Lakatos (violin) Kavita Krishnamurti (vocals) 1 Jenő Lisztes (cimbalom) Tanmoy Bose (tabla) Frijo Francis (keyboard) DSR Murthy (mridangam)
Works: Subramaniam: Bullet Train; Lamenting; Peacock; Dharamavathi1; Wilderness; Talking Fingers. Brahms: (arr. Subramaniam, Lakatos) Hungarian Dance
Catalogue number: AVANTI CLASSIC AVTC 10562
The virtuoso Hungarian fiddler Roby Lakatos teams up with star Indian violinist L. Subramaniam for this charismatic disc, entitled Peacock, which combines Lakatos's fearsome style of Gypsy fiddle with Subramaniam's mastery of the classical Karnatak tradition and his thorough grounding in Western music. The two first collaborated back in 2015, when Subramaniam brought Lakatos to India for the Lakshminarayana Global Music Festival, and a handful of the tracks recorded here were written for that tour by Subramaniam.
The opening track, Bullet Train, feels pedestrian, with Lakatos and Subramaniam echoing each other's phrases back and forth. With the rich textures of Lamenting, the pair seem on firmer footing, their soaring melodies underpinned by circling layers of cimbalom and keyboard.
The fusion version of Brahms's Hungarian Dance has a slightly crazed feel to it but is thoroughly infectious. Lakatos and Subramaniam play the famous tune as a duet, all set to an insistent tabla beat. Peacock is perhaps the most successful. The flavour of the Karnatak music tradition runs through it, with mesmerising tabla under syncopated, tripping riffs from Lakatos and Subramaniam. A later section sees the players in more ruminative mood, exploring both Indian and Western scales. Layers of cimbalom and piano expounding major chords towards the end even lend a flavour of the Penguin Cafe Orchestra.
Talking Fingers brings stunning tremolo pizzicato from Lakatos, and gorgeous tone colours from Subramaniam on the low D string of his five-string violin. Recorded sound has a rich and luxuriant immediacy, adding to the appeal of this disc.
CATHERINE NELSON