Sketches of Spain with quartets from the 18th century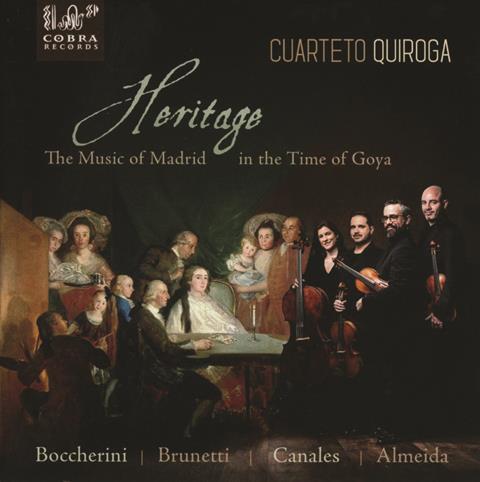 The Strad Issue: September 2019
Description: Sketches of Spain with quartets from the 18th century
Musicians: Quiroga Quartet
Works: BOCCHERINI String Quartet in E flat major op.24 no.3 BRUNETTI String Quartet in B flat major CANALES String Quartet in G major op.3 no.5 ALMEIDA MOTA String Quartet in D minor op.6 no.2 MORALES Kyrie
Catalogue Number: Cobra Recordings 0067
Already much lauded for their gloriously impeccable string playing, the Quiroga Quartet players deliver elegant performances with a potentially enterprising choice of repertoire.
Focusing on the court life of the Borbón royals, Infante Don Luis and Carlos IV, the programme speculates that these featured composers may well have crossed paths with Goya. But the main point of this release is to explore their musical contribution to the Spanish Enlightenment.
All these composers penned substantial numbers of quartets, donning the classical style of central Europe which was widely disseminated through printers and booksellers in Madrid.
Yet even with such supremely skilled performers carefully nuancing each phrase, their gut strings adding golden warmth to the timbre, the overriding impression of this programme is that it is worthy rather than illuminating.
The two world premiere recordings feature a rather routine quartet by Boccherini and an equally dull contribution from Brunetti. There are a few sparks of originality in the Largo of Canales's G major Quartet, and a colourful passage of sul ponticello in the concluding Presto.
The most engaging work is Almeida Mota's D minor Quartet, which offers arresting unison delivery of the theme in the opening Allegro and allows a much more equitable distribution of material between all four instruments. Undoubtedly, these quartets are interesting to hear, if only to enhance our admiration for the inventiveness and skill of such major figures as Haydn and Mozart.
JOANNE TALBOT