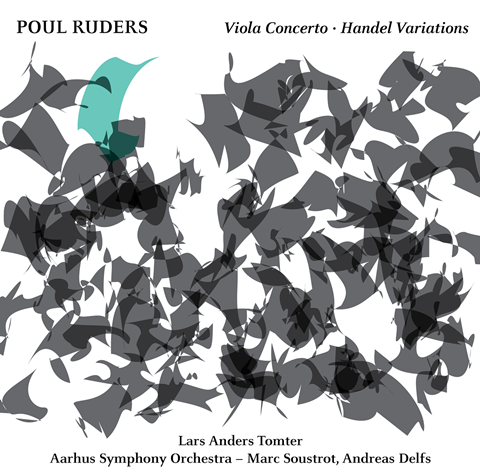 The Strad Issue: June 2018
Description: Authoritative playing of music by a contemporary Danish composer
Musicians: Lars Anders Tomter (viola), Aarhus Symphony Orchestra/Marc Soustrot, Andreas Delft
Works: RUDERS Viola Concerto, Handel Variations
Catalogue Number: DACAPO 8.226149
Poul Ruders (b. 1949) is arguably the most prominent living Danish composer. His Viola Concerto, written in 1993–4, demonstrates his fine ear for timbre and textures. This tonally fascinating work begins with a single melodic line in the viola that is 'intermittently, quietly doubled' – as Stephen Johnson writes in his illuminating liner notes – by various instrumental groups, but their rhythms are 'out of phase' with those of the viola and, by and by, begin to take on a life of their own, a process that Ruders calls 'minimorphosis'. This evolves throughout the viola's extended introductory solo, culminating in the rich polyphonic textures of the first central tutti, all derived from the original viola line. The concerto's sections succeed each other without a break, articulated by two extended viola cadenzas.
Lars Anders Tomter is an immensely authoritative soloist who phrases Ruders's soaring lines with consistent aplomb and a stream of solid, golden sound. The fast passages of the central scherzo-like section are ideally clear, and the final climb to a B flat in altissimo – shades of Shostakovich's 13th Quartet? – shattering in its intensity. He is supported to the hilt by the Aarhus Symphony under their principal conductor, Marc Soustrot and faithfully recorded in the orchestra's home base.
Apparently, Ruders felt that his Viola Concerto was too long, revising and shortening it in 2013 (the version heard here); I can't resist the heretical thought that his Handel Variations might profit from a similar pruning: 90(!) 'symphonic reflections' on an innocent number from the Water Music could, for all their ingenuity, prove too much of a good thing.
CARLOS MARÍA SOLARE