Bach concertos reimagined to thrilling effect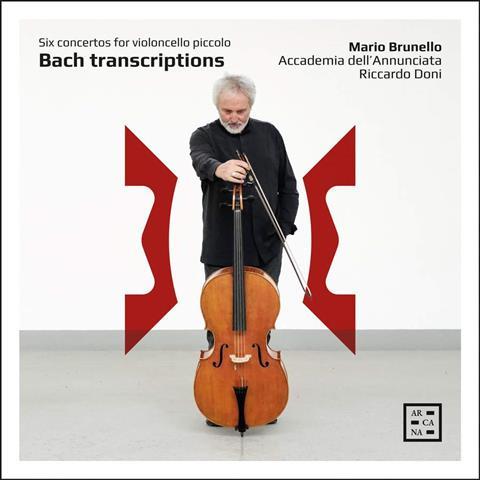 The Strad Issue: March 2023
Description: Bach concertos reimagined to thrilling effect
Musicians: Mario Brunello (violoncello piccolo) Accademia dell'Annunciata/Riccardo Doni (harpsichord/chest organ)
Works: Bach: Concertos for violoncello piccolo, strings and continuo: F major BWV971, D major BWV972, D major BWV1054, G minor BWV1056R, A major BWV1055R; Concerto in D minor for violoncello piccolo and continuo BWV974
Catalogue number: ARCANA A535
This disc concludes Mario Brunello's trilogy of recordings of compositions by Bach in transcriptions for the four-string piccolo cello (see Sentimental Work, January 2023). It includes arrangements of three works that survive as harpsichord concertos (BWV1054–1056), concertos by Vivaldi (op.3 no.9, RV230) and Marcello (S D935) that Bach arranged for harpsichord (BWV972 and 974 respectively) and Riccardo Doni's enterprising transcription of the Italian Concerto (BWV971), in which Bach's contrapuntal lines emerge with unusual clarity, animating every textural detail.
Brunello gives lithe, polished and highly committed performances that admirably showcase his technical prowess and expressive powers. Most of the outer movements are breezy and energetic and feature athletic, clearly articulated and neatly ornamented solo playing; however, the first movements of BWV974 and 1056 sound laboured, the articulation of the opening movement of BWV971 is less detached than the norm and the dramatic finale of BWV972 seems unnecessarily roughly attacked by the principal protagonists.
The central slow movements are flexibly shaped and tastefully ornamented, most, particularly BWV1056R and BWV971, benefiting also from Elisa La Marca's judicious theorbo continuo contribution. The Adagio of BWV1054, though, sounds somewhat disconnected and its piano sempre indication appears to have been ignored. Like Arcana's recording engineers, the members of Accademia dell'Annunciata provide excellent support.
ROBIN STOWELL