A young cellist shines more brightly than the music in her concerto debut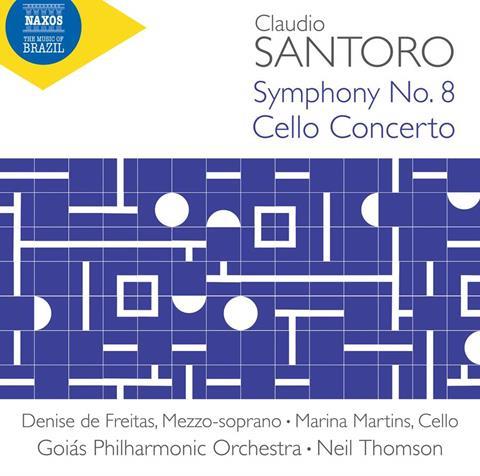 The Strad Issue: October 2023
Description: A young cellist shines more brightly than the music in her concerto debut
Musicians: Marina Martins (cello) Goiás Philharmonic Orchestra/Neil Thomson
Works: Santoro: Cello Concerto; Symphony no.8; Three Abstractions; One-Minute Play; Asymptotic Interactions
Catalogue number: NAXOS 8.574410
It takes almost six minutes for the soloist of Santoro's Cello Concerto to show up. She sidles in almost unnoticed, like a diffident date or a train so late it has fallen off the timetable. That's Santoro for you. However familiar (or not) you are with his music, all you can expect is the unexpected. Blind listening to any single point on this album might lead you to guess you're hearing a pupil of Prokofiev or Lutosławski or John Barry. Even when the soloist comes to dominate the long opening movement with a cadenza, there's a pensive and capricious reluctance in the writing – or at least that's how Marina Martins brings it off in this premiere recording.
She is placed well forward in the mix, as well she might be given Santoro's heavy orchestral battery. It cannot be said, for all its eclecticism, that this piece contains all that much emotional variety, tilted as it is towards the struggle-and-defiance narrative of most mid-century works in the genre. However, Martins finds points of relaxed extroversion in the finale, which is driven forward by a native ostinato rhythm.
At 24, now making her career in Europe, the Brazilian cellist has put her flag on the map with this recording, just as Neil Thomson continues to make the case for Santoro's music as part of the 'Music from Brazil' series on Naxos. The compact Eighth Symphony barely even fills the space of the concerto's first movement. The strings of the Goiás Philharmonic are put through their paces by the violent contrasts, deliquescent forms and quarter-tone harmony of the Three Abstractions.
PETER QUANTRILL