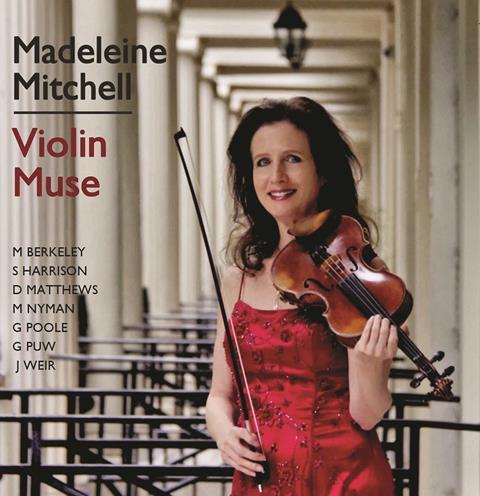 The Strad Issue: December 2017
Description: Nicely paced collection of contemporary violin music
Musicians: Madeleine Mitchell (violin) Cerys Jones (violin) Nigel Clayton (piano) BBC National Orchestra of Wales/Edwin Outwater
Works: POOLE Rhapsody PUW Violin Concerto 'Soft Stillness'; D. MATTHEWS Romanza; S. HARRISON Aurea Luce; WEIR Atlantic Drift for Two Violins; M. BERKELEY Veilleuse; NYMAN Taking It as Read
Catalogue Number: DIVINE ART DDA 25160
Violin Muse brings together seven premiere recordings of works by British composers, five of them written for Madeleine Mitchell. They're a nicely diverse selection, with recorded sound crisp and lustrous throughout, and Mitchell underlines her credentials as a persuasive advocate for these colourful contemporary pieces.
Shades of Shostakovich surface in Geoffrey Poole's Rhapsody, with its arch melodies and jazz inflections, and there are even echoes of Simon and Garfunkel at one point in the piano's plaintive repeating patterns. Witty one moment, melancholy and searching the next, Poole's distinctive oeuvre slips in and out of traditional tonality easily, and Mitchell navigates its high-wire virtuosity with aplomb. Guto Puw's Violin Concerto – the disc's only work with orchestra – is another highlight, from the taut, claustrophobic opening in which violin and clarinet track each other to the menacing, visceral ending. The pacing is perfect, Mitchell and the BBC National Orchestra of Wales detailing Puw's richly imagined language with compassion.
The slow creep of plainsong in Sadie Harrison's Aurea Luce builds to blistering richness, blown away by Judith Weir's brisk and wonderfully spare Atlantic Drift, with its snatches of folk song. Here, Cerys Jones gives sensitive support as the second violinist.
For me, Nyman's strident Taking It as Read falls a little flat after so much colour and high drama, but it's still a winning disc with much to enjoy.
CATHERINE NELSON