Leah Hollingsworth watches the performance at Morgan Library & Museum, Gilder Lehrman Hall, New York, on 7 April 2021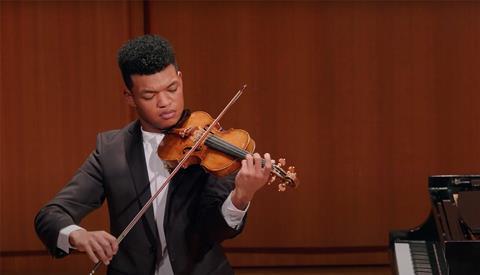 Violinist Randall Goosby's sweet sound and thoughtful use of his warm vibrato made for a wonderful Ravel Sonata no.2 in G major. The Allegretto was wonderfully tender, his articulation was masterful (with superb pianissimo spiccato) and his technical ability superb. The 'Blues' movement was tasteful and characterful, never overdone. I especially appreciated his sultry slides and precisely swung rhythm. The final movement showcased Goosby's bow arm, and while technically he was in complete control of the movement, I wished for a clearer sense of architecture among all the many notes here.
Goosby next presented two memorable pieces by Coleridge-Taylor Perkinson (1932–2004) for solo violin. The first, Blue/s Forms, like a bluesy Ysaÿe, was marvellous in every way: intonation, character, sound quality, emotion. The performance was compelling and heartfelt. Louisiana Blues Strut: A Cakewalk was a fun piece, more reminiscent of a fiddle tune, and he played with joy and pizzazz. It was a delight to hear Goosby present these two works.
The programme concluded with Brahms's D minor Violin Sonata, which Goosby started at a moderate, thoughtful tempo with a beautifully gentle approach. I did wish for more sense of the emotion of the intervals, though – you don't want Brahms to sound too easy, in my book. That said, I thoroughly enjoyed his interpretation of the work: he performed with gorgeous characterisation and colours, lovely vibrato use, pristine articulation and thoughtful phrasing – and he delivered a passionate Presto.
LEAH HOLLINGSWORTH
Photo courtesy Young Concert Artists