Soulful new readings of concertos by a Latvian master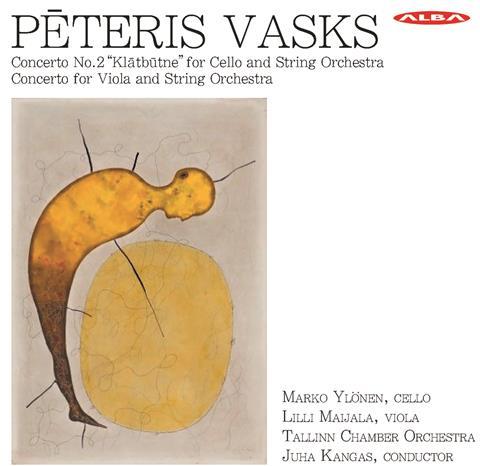 The Strad Issue: June 2022
Description: Soulful new readings of concertos by a Latvian master
Musicians: Lilli Maijala (viola) Marko Ylönen (cello) Tallinn Chamber Orchestra/Juha Kangas
Works: Vasks: Cello Concerto no.2 'Presence'; Viola Concerto
Catalogue number: ALBA ABCD 463
With its naive harmonies, endless, slowly unfolding melodies and, above all, profound sense of deep melancholy, it's all too easy for the music of Latvian composer Pēteris Vasks to sound a bit mawkish and – well – trite. It takes performers with serious commitment and conviction to bring its elusive spirituality to the foreground, something that both soloists and orchestra achieve very movingly on this luminous new disc.
Vasks wrote his 2011 Cello Concerto no.2 for Sol Gabetta, who's made her own a beautifully eloquent recording of the work. Finnish cellist Marko Ylönen offers a more chiselled, granitic account, pacing his immense power expertly across Vasks's long, slow emotional build-ups, and tackling the composer's Bartók-meets-Shostakovich dark scherzo of a second movement with muscular clarity and brilliantly crisp, clipped articulation. Like much of Vasks's music, it's an enigmatic piece, butting grotesque sarcasm up against brooding sorrow, but Ylönen clearly feels a connection with the concerto's vulnerable emotions: his two lengthy cadenzas, for example, are delivered as introspective soliloquies, carefully considered and enunciated.
Ylönen's compatriot Lilli Maijala provides a brighter, more buoyant account of Vasks's 2015 Viola Concerto, playing the folk-inspired second movement with remarkable richness and steely precision, and fully conveying the aching sadness of its final movement. The Tallinn Chamber Orchestra under Juha Kangas plays with just as much commitment and focus in Vasks's glacial harmonies as it does in his brief, whirling dances. A very rewarding package, recorded in close, clear sound.
DAVID KETTLE