Yet another Four Seasons? Yes, but this one has some real colour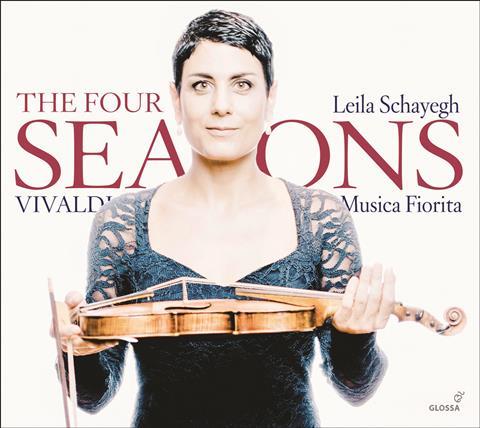 The Strad Issue: February 2020
Description: Yet another Four Seasons? Yes, but this one has some real colour
Musicians: Leila Schayegh (violin) Musica Fiorita/Daniela Dolci
Works: Vivaldi: The Four Seasons; 
Sonata in D minor RV63; 
Ciaccona in D major from RV222
Catalogue Number: GLOSSA GCD 924203
Recorded in the reverberantly atmospheric acoustics of Binningen's Heilig Kreuz Church in Switzerland, and highlighted by the ravishing legato cantabile of Leila Schayegh playing a 1675 Andrea Guarneri, complete with actual twittering birds in the first movement of 'Spring' and ominous drummed (?) suggestions of thunder in the slow movement of 'Summer', which in the finale assume explosive force accompanied by flashes of lightning (sheet metal?), this is a recording of Vivaldi's perennial favourite like no other. Onomatopoeic suggestion becomes very much the order of the day, via a captivating variety of pizzicato and arco effects that bring the pictorial elements of the music startlingly to life.
On paper, one might despair that this is yet another in the long line of historically informed Four Seasons in which 'style' – I use the word very loosely in connection with certain recordings – wins over substance. Yet such is the beguiling sincerity of Schayegh's playing and the ravishing sound she produces – you can almost sense her holding musical hands with the likes of Christian Ferras or Augustin Dumay on occasion – and the no-holds-barred sensitivity and commitment of the nine-piece Musica Fiorita under harpsichordist and director Daniela Dolci, that any potential reservations virtually dissolve into inconsequence.
A 'safe' library version this may not be – the couplings are less overtly colourful – yet I found it an at-times gripping and enchanting experience.
JULIAN HAYLOCK