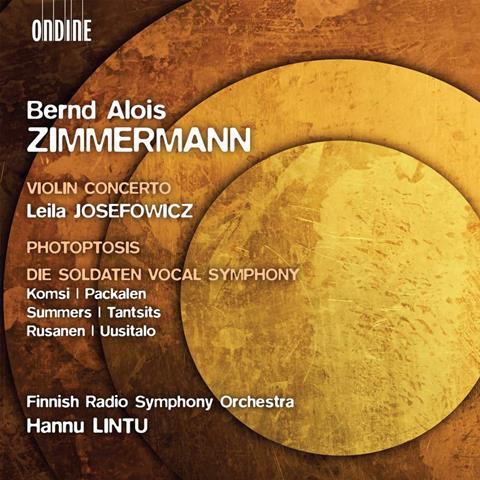 The Strad Issue: April 2019
Description: Eloquent advocate for a 20th-century German composer's knotty music
Musicians: Leila Josefowicz (violin) Finnish Radio Symphony Orchestra/Hannu Lintu
Works: ZIMMERMANN Violin Concerto; Photoptosis; Die Soldaten Vocal Symphony
Catalogue Number: ONDINE ODE1325-2
Bernd Alois Zimmermann's three-movement Violin Concerto (see Session Report, February 2019) is aggressive and dramatic. It opens with a bang, before Josefowicz embarks on a long legato line supported by urgent rhythmic accompaniments and punctuated by orchestral stabs. There is a sudden pause, and she starts into a vehement dance supported by an assertive piano.
Later the violin snaps and snarls, with Josefowicz biting into the strings as the orchestra jostles around her. It has terrific momentum as the soloist maintains a strong narrative line through the disjointed bustle.
The character of the second-movement Fantasia changes constantly: Josefowicz's swoops and multiple-stops merge into drama, to a delicate interlude, to mystery. The final motoric rondo, with its frequent moto perpetuo writing for the violinist, could be a mad cousin of Stravinsky's A Soldier's Tale.
Josefowicz is magnificent throughout, whether negotiating ferocious technical challenges or playing with gentle lyrical wonder. This is a work that commands attention; it's sometimes beautiful, sometimes scary. It could be a score to accompany an expressionist silent film, and Josefowicz has the measure of it.
The most substantial work on the CD is the eight-movement Die Soldaten Vocal Symphony, a piece of violent rhetoric taken from Zimmermann's opera Die Soldaten, given a striking performance. The recording is close and captures all the colour of the music.
TIM HOMFRAY