An enterprising collection of breathtaking new music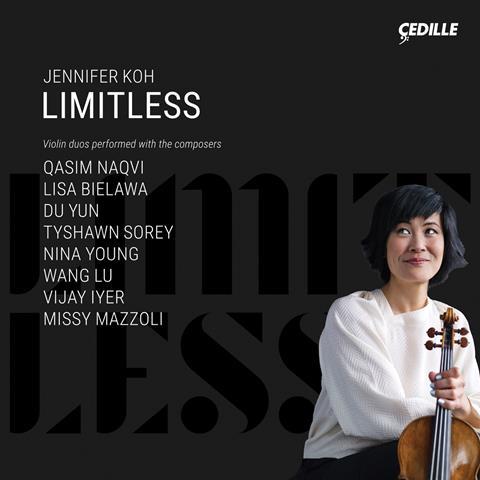 The Strad Issue: January 2020
Description: An enterprising collection of breathtaking new music
Musicians: Jennifer Koh (violin) Qasim Naqvi (modular synthesiser) Lisa Bielawa, Du Yun (voice) Tyshawn Sorey (glockenspiel) Nina Young, Wang Lu (electronics) Vijay Iyer (piano) Missy Mazzoli (piano and electronics)
Works: Music by Naqvi, Bielawa, Du, Sorey, Young, Wang, Iyer and Mazzoli
Catalogue Number: CEDILLE CDR 90000 191 (2 CDs)
This double CD of new music shows Jennifer Koh at her luminous and creative best. All but two of the works are world premiere recordings, and Koh's gift for inhabiting each new soundscape in this most demanding of music is mesmerising.
Each piece is a duo, Koh performing alongside the composer. The opening track, Qasim Naqvi's The Banquet, sets the bar high. Written for violin and modular synthesiser – a precursor to the modern keyboard synthesiser – it is wonderfully slow and atmospheric, setting up layers of sound with a sustained G ever present, the timbres and textures of both instruments becoming increasingly wild.
The blend of soprano and violin weaving around each other in Lisa Bielawa's Sanctuary Songs is equally compelling, straying into political territory with its fixation on a line from an Elinor Wylie poem, 'Make my marvellous wall so thick'.
All told, the sheer variety in these collaborations makes for a breathtaking 100 minutes of music, from the mellow textures of violin and glockenspiel on Tyshawn Sorey's In Memoriam Muhal Richard Abrams to the brittle and eclectic Her Latitude by Wang Lu, in which the violin dances around processed sounds that stretch from rusty bells to Buddhist chants. Recorded sound is crisp and crystal clear, and throughout this enchanting disc Koh shows her virtuosity in laying bare the beauty of this most diverse array of sound worlds.
CATHERINE NELSON