Vivid 20th-century quartets played with full-blooded passion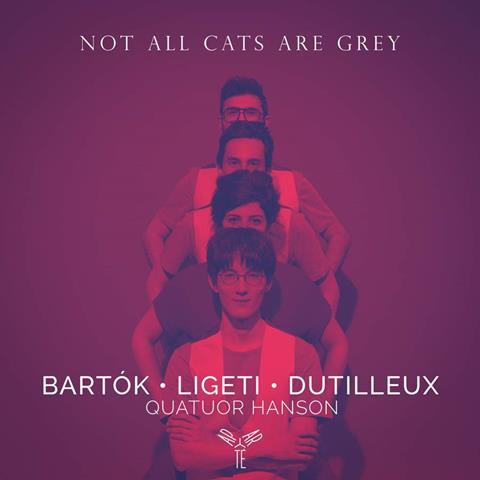 The Strad Issue: February 2022
Description: Vivid 20th-century quartets played with full-blooded passion
Musicians: Hanson Quartet
Works: Ligeti: String Quartet no.1 'Métamorphoses nocturnes'. Bartók: String Quartet no.2. Dutilleux: String Quartet 'Ainsi la nuit'
Catalogue number: APARTÉ MUSIC AP261
Ignore the concept title: the assertion that 'not all cats are grey at night' is intended here to indicate that not all 20th-century music sounds the same – in other words, similarly unpleasant. Would anybody argue that it does?
Taken purely on its own terms, however, this second disc from the young, Paris-based Hanson Quartet is a thrilling ride through three iconic quartets of the past century. So vivid and vibrant are their accounts, in fact, that you'd be hard pressed to notice the disc's theme of night – an idea that's stretched rather far to encompass Bartók's Second Quartet, it has to be said.
The Bartók shows the Hanson players delivering full-on, late-Romantic richness, almost fighting for attention with ever more intense levels of expression amid the composer's dense motivic textures. They make a mighty noise, too, in the Quartet's hard-driven rhythmic dance music, capturing the work's balance of intellectual rigour and visceral power with equal care and attention. They play up the theatricality in Ligeti's First Quartet (Métamorphoses nocturnes), too, in a succession of episodes so feverishly vivid they could only have come from a dream. But behind their passion for conveying this hallucinatory music to the limit, there's a steely sense of solid architecture and pacing, backed up by their impressive technical abilities.
If the drama and passion wind down slightly, it's in Dutilleux's Ainsi la nuit, which gets a sensitive, thoughtful reading that captures its rhapsodic spontaneity brilliantly, and conveys the composer's exquisite sonic effects really quite magically.
There's a fair amount of breathing picked up in the close, warm recording, but this is a deeply rewarding disc from a quartet clearly marked out for great things.
DAVID KETTLE