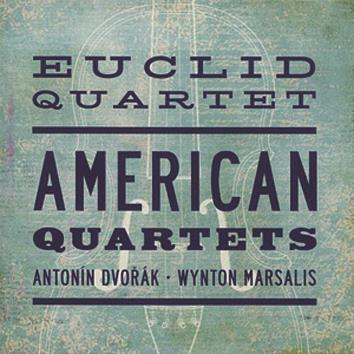 The Strad Issue: December 2017
Description: America seen through the lens of two very different composers
Musicians: Euclid Quartet
Works: DVOŘÁK String Quartet no.12 in F major op.96 'American'; MARSALIS String Quartet no.1 'At the Octoroon Balls'
Catalogue Number: AFINAT RECORDS AR1701
The 'American' Quartet's easy flow of indelible melodies disguises a wealth of awkward displacements – notes that in a more string-oriented key might ring out sympathetically often fall on a string or in a position that clouds potential brilliance. The Euclid Quartet gets around the problem convincingly by adopting an unusually clean style of articulation, exchanging indulgent cantabile warmth for crisply enunciated phrases that appear to be dancing continuously. The players' spick-and-span approach lends an almost neo-Classical air to Dvořák's cross-cultural invention, so that one is less aware than usual of a composer finding ingenious solutions to structuring tuneful material.
If Dvořák's pentatonic thinking intentionally blurs the distinction between authentic Czech and American folk melodies, in his first quartet (composed in 1995) Wynton Marsalis captures unmistakably the authentic vibe of Creole music in seven colourful movements that pay homage to the famous traditional balls given in New Orleans during the 18th and 19th centuries. Via music of insatiable creative energy, Marsalis conveys the spirit of country-dance folk fiddle, the blues, rag and (in the fifth movement) the thrill of a steam locomotive in full flow. Captured in vivid sound of exceptional detail, the members of the Euclid Quartet hurl themselves into the fray with alacrity, relishing the music's invention with contagious wit and virtuosity.
JULIAN HAYLOCK