Music-making of exquisite detail creates a powerful emotional impact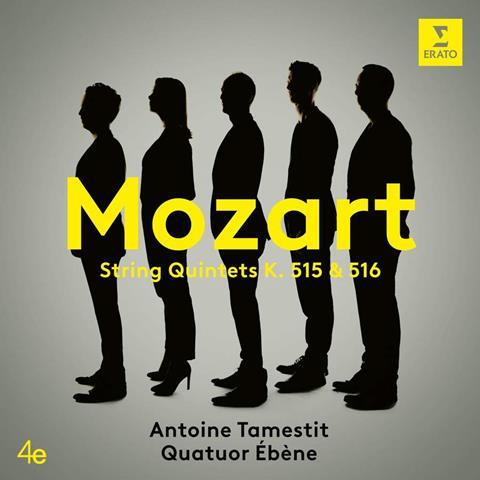 THE STRAD RECOMMENDS
The Strad Issue: June 2023
Description: Music-making of exquisite detail creates a powerful emotional impact
Musicians: Ébène Quartet, Antoine Tamestit (viola)
Works: Mozart: String Quintets: no.4 in C major K515, no.5 in G minor K516
Catalogue number: ERATO 5419721332
The C major and G minor Quintets form one of those yin-yang pairs that we find now and then in Mozart's output. Timing – both musical and expressive – is everything in bringing out the full inner life of both works so that the picture is not wholly filled by untroubled serenity in one work nor unrelieved bleakness in the other.
I like the decisiveness and self-contained elegance of leader Pierre Colombet's opening phrase in K516 as much as the more muted and anxious reply from Tamestit's viola. When the repeat comes round, Colombet introduces an element of nervous haste to his up-beat, and the ensemble uses Mozart's repeats throughout both works to tell a story rather than simply intensifying a single expression. Even the most innocent minuet phrase is balanced and voiced to raise a note of doubt or resolve. Through the searching cantabile arches of the Adagio, and equally well-judged pauses for thought, something is kept in reserve so that the finale's introduction opens up a still broader and unexpected realm of desolation. Grumiaux and company (Philips) notwithstanding, I can't imagine it better done.
If anything, animating the sweetness and light of K515 demands still greater interpretative imagination, but Tamestit and the Ébène rise magnificently to the challenge. Perhaps no phrase in the Minuet moves at an identical pulse to the one before it. The close but luminous studio sound retains detail such as cellist Raphaël Merlin's fingerboard action in the Adagio; these are performances you can see unfolding in the mind's eye.
PETER QUANTRILL