Exploring the Ébène Quartet's recordings of Beethoven's complete oeuvre, Julian Haylock finds himself in a marvellous sonic landscape of intensity and variety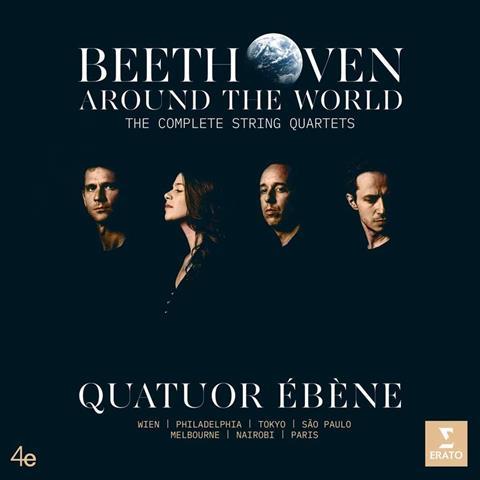 The Strad Issue: October 2020
Musicians: Ébène Quartet
Works: Beethoven Complete String Quartets
Catalogue number: ERATO 0190295339814 (7 CDS)
Following the Ébène Quartet's bracing 'taster' CD, featuring the first two 'Rasumovsky' Quartets (released in September last year), here is the complete cycle recorded 'live and in rehearsal' on tour at various venues 'around the world' – Philadelphia, Vienna, Tokyo, São Paulo, Melbourne, Nairobi and Paris – between May 2019 and January 2020. Back-to-back comparisons reveal subtle differences in recorded sonority between, say, the velvety resonance of Vienna's Mozart-Saal and the more imposing richness of the Sala São Paulo, yet heard in context the ear readily adjusts.
Having relished the white-hot interpretative intensity and fantasy of these performances for several weeks now, I cannot imagine returning to old favourites from the likes of the Busch, Hungarian, Budapest, Italian, Amadeus and Végh quartets without wearing a pair of rose-tinted headphones. The Ébène – violinists Pierre Colombet and Gabriel Le Magadure, violist Marie Chilemme and cellist Raphaël Merlin – regularly captures a sense of musical weightlessness, as though in recreative free-flow. Traditional furrowed-brow, espressivo, cantabile-driven values barely get a look in, as they peel back layers of stultifying accretion and rediscover the shock value of this music for a contemporary audience.
If that begins to sound as though they may simply have taught these centuries-old scores a few new musical tricks, then think again. Far from imposing their ideas in a conjectural manner or attempting to recreate how this music might have sounded in the early 19th century, they appear to have thrown away the semantic rulebook to create fresh, compelling sound worlds from the roots up. The results feel like a metaphor for the composer's modus operandi – they play not as they should, but as they feel they must.
So how, exactly, does the Ébène achieve its radical imperative? It is partly to do with timbre – as opposed to cultivating a firm, full-throated, physically imposing sound, the players allow their sensibilities free rein, responding sonically with a striking palette of expressive colours to make mainstream readings feel monochrome by comparison. Rather than pacing dynamics, mood and phrasing according to block terraces of structural articulation, they keep textures buoyant and in-the-moment, relishing the music's multifaceted emotional continuity. If with Beethoven there is a tendency to deal in absolute certainties and rejoice in his music's perceived impregnability, the Ébène takes absolutely nothing for granted.
The Ébène's subtle internal balancing, harmonic clarity, limpid phrasing, micro-fine vibrato shadings and (most crucially) ear-ringing powers of corporate intonation prove a perfect match for the op.18 set of six. Beethoven's humorous asides, complete with sforzando rib-nudges, are deftly handled, as are his occasionally awkward finger and bowing displacements, while exquisite tempo inflections help keep the music from ossifying into steady-as-she-goes routine. In the generally more expansive 'Rasumovsky' quartets, the purely physical aspects of Beethoven's writing are subsumed into the musical argument, rather than dictating a sense of effort or mere bravado – no.3's whistle-stop finale becomes a light-as-air prototype for the archetypal Mendelssohnian scherzo, while the tricky interchanges that explode ultimately in a blaze of manic string-crossing in the opening movement of op.74 are handled with an almost balletic grace.
Hallowed musical territory the 'late' quartets may be – the Ébène musicians elect, incidentally, to play the original Grosse Fuge finale of op.130 – yet here they emerge refreshingly free of awestruck 'greatness'. These are inconvertibly challenging works, yet here they never merely sound technically complex or emotionally obscure. Rather than playing every note as if it were loaded with philosophical significance, the Ébène evinces a musical grace, ingenuousness and simplicity that is deeply satisfying. The generous (106-page) booklet, annotated by the quartet members, illuminates both the music and tour highlights, complete with evocative colour illustrations.
JULIAN HAYLOCK