A compelling traversal of contemporary quartet repertoire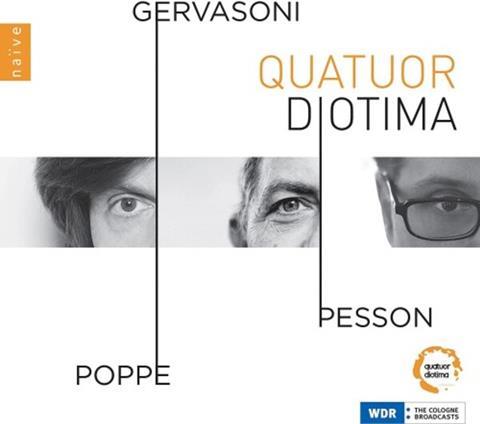 The Strad Issue: April 2022
Description: A compelling traversal of contemporary quartet repertoire
Musicians: Diotima Quartet, Pascal Moraguès (clarinet)
Works: Gervasoni: Clamour; Six lettres à l'obscurité (und zwei Nachrichten); Strada non presa. Pesson: Respirez ne respirez plus; Bitume; Nebenstück; Farrago. Poppe: Buch; Zwölf; Tier; Freizeit
Catalogue number: Naïve V 7159 (3 CDs)
Three CDs, each dedicated to a different contemporary European composer, form this substantial and serious-minded offering from crack Paris-based new music specialists the Diotima Quartet. Bergamo-born Stefano Gervasoni provides the most uncompromising music, melding a Helmut Lachenmann-like vocabulary of extended noises and effects with more conventional playing. The Diotima players rise magnificently to his challenges, however, in performances that are as microscopically precise as they are compellingly expressive. The quartet attacks the bewildering profusion of sonic effects of his appropriately named Clamour, for example, with plenty of wit and spontaneity, transforming its succession of dramatic episodes into a journey through a strange but vivid landscape.
French composer Gérard Pesson sticks to more conventional performing techniques, but plays mischievous pranks with our expectations in the ghostly march of his Bitume, or his smeary 'filtering' of Brahms's Ballade no.4 in B major through his unreliable recollections in his delicate Nebenstück for clarinet quintet. German Enno Poppe, on the other hand, sets his music growing organically from self-replicating cells, in the brusque, almost minimalist repetitions of the first movement of his Buch, for example, or in queasy, restless glissandos, four flavours of which generate the work's second movement.
As an overview of particular contemporary trends across continental Europe, this release offers a wealth of contrasting works to provoke and persuade. More importantly, however, the Diotima players – the dedicatees or at least first performers of much of the music here – provide near-ideal accounts that never shy away from articulating the complexities of the composers' intentions, but do so in expressive performances that focus fiercely on the works' meanings and messages. It's a dense but thoroughly rewarding set, recorded in rich, close sound.
DAVID KETTLE