Peter Quantrill hears the performance at London's Kings Place on 30 September 2021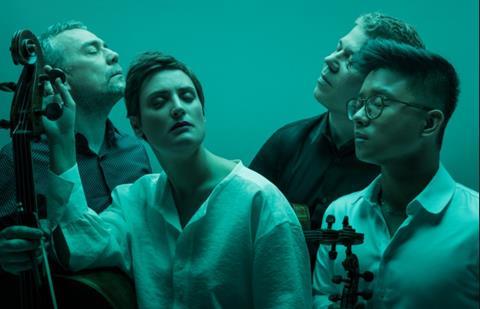 The Diotima Quartet had come 'all the way from Paris', it was announced from the stage, and there was indeed a frisson of novelty to this Kings Place recital in this time of red zones and closed borders. For starters, the D major Quartet D74 by the teenage Schubert: an unaccountable rarity in concert, blowing away autumnal cobwebs here in an account of exemplary freshness and vitality.
On stage, the proto-symphonic transformation of Schubert's fizzing ideas supplied an elegantly Italianate set design for the dynamic nature of the Diotima in performance. Leader Yun-Peng Zhao and cellist Pierre Morlet maintained a coolly impassive air; in between, second violinist Constance Ronzatti and violist Franck Chevalier seemed to hang on every note of their respective musical partners.
On this evidence I would watch and listen to the Diotima play anything, especially Haydn. On this occasion their collective transparency of tone made an exquisite, polychromatic foil to the clarinettist (and composer) Mark Simpson for the first performance of Alchymia by Thomas Adès. The new quintet lives up to its title in the uncanny overlapping scales of the opening movement, and more widely in the burnished glow of restoration that he bestows on Elizabethan melodies in the middle movements. The final round-dance ascends to a kind of Mahlerian nirvana in the closing pages with the unsettling rapture that has become an Adès hallmark.
No less original in its way was the second-half account of the Brahms Clarinet Quintet. Simpson and the Diotima continually cut against the conventional grain of warm retrospection in the piece, underlining instead the lonely passion that still burns in late Brahms. A free, Schumann-like flexibility of phrasing in the second movement made of it a recitative and arioso on an imagined text of desolation, casting a wan light on the Expressionist flurries of the scherzo and the baleful sighs of the finale: a remarkable and discomfiting experience.
PETER QUANTRILL
Photo: François Rousseau