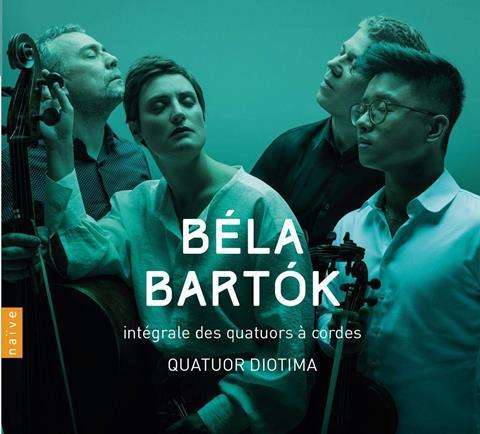 THE STRAD RECOMMENDS
The Strad Issue: May 2019
Description: An outstanding new set of Bartók's complete quartets
Musicians: Diotima Quartet
Works: BARTÓK String Quartets nos.1–6
Catalogue Number: NAÏVE V5452 (3 CDs)
The recording of Bartók's First Quartet demonstrates some of the features that make this such a fine set of all six. The playing is pristine and precise, and the intonation is faultless, qualities highlighted by the recording, which is forward, full and well balanced. In the first movement there is inexorable progress to the fortissimo climaxes, with playing of crystal clarity and textural transparency – plus some earthy unscripted portamentos on the C string from cellist Pierre Morlet, who later shows eloquent sadness in his molto espressivo melody. The second movement is nimble before its steely agitato, and the finale sweeps along on a wave of nervy energy.
The Diotima Quartet responds to the complex emotional landscape of the Second Quartet with some heated and urgent playing. The staccatos in the second movement bite, and the prestissimo ending scuttles along, a spectral antecedent to the controlled desolation of the Lento finale. There is fierce muscularity in the Prima Parte of the Third Quartet, and an expressive use of vibrato. The spirit of dance is close in the headlong kaleidoscopic dash of the Seconda Parte, and in the final coda.
The first movement of the Fourth Quartet has a visceral rawness and snap. Unanimity of ensemble remains immaculate in the hectic, devil-take-the-hindmost Prestissimo second movement as well as the feral drama of the final Allegro molto. Morlet keens affectingly through the anguished lament at the beginning of the central Non troppo lento, though with scant regard for the longer note values.
A strong lyrical sensibility runs through the opening Allegro of the Fifth Quartet, for all its vibrant rhythms. The Adagio is serene and beautifully shaped; the asymmetrical lines of the Scherzo pulse with energy, and the Finale sweeps along, slinky and featherweight, punctuated by drama and flashes of wit.
There is a great range of tone colour in the Sixth Quartet, with striking contributions particularly from violist Franck Chevalier. In the midst of the bone-dry Marcia, Morlet produces another powerful recitative. After the vivid Burletta, the expressive melancholy of the mesto sections that appear throughout the work reaches its apogee in the bleakness of the fourth movement.
TIM HOMFRAY