Leah Hollingsworth hears a performance of Haydn, Berg and Webern at New York's Zankel Hall, Carnegie Hall, on 27 April 2022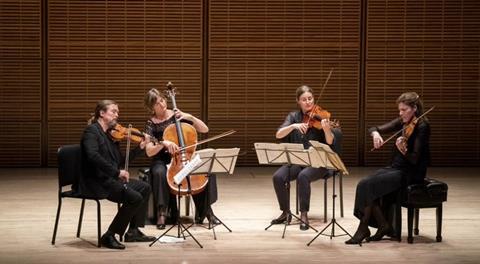 Haydn's dazzling F minor String Quartet op.20 no.5 is a delightful piece, and the Tetzlaff Quartet performed it with great energy and clarity. First violinist Christian Tetzlaff played with enviable warmth in the opening Moderato and tossed off the filigree runs in the Adagio with apparent effortlessness. The final fugue had both zeal and delicacy. Although it felt a bit jarring after the Haydn, Alban Berg's String Quartet op.3 was performed next with convincing passion and great dedication. The second movement was well paced, with a clear sense of narrative.
Webern's Five Movements op.5 followed the interval and the quartet's hushed dynamics were so quiet as to be almost inaudible. The Sehr langsam was ethereal and heart-rending in its longing and beauty. Some bothersome ensemble issues that were noticeable in the Haydn – phrases that didn't end quite together and note lengths and articulations that didn't match – dissipated in Brahms's A minor String Quartet op.51 no.2, which closed the programme. I enjoyed the quartet's restrained approach to vibrato throughout and their beefy spiccato in the third movement. The unmistakable talent and charisma of Christian Tetzlaff shone through the entire piece, which finished with a sparkling Allegro non assai.
LEAH HOLLINGSWORTH
Photo: Richard Termine