Tim Homfray hears a performance of Sam Perkins, Beethoven and Mendelssohn at London's Wigmore Hall on 22 May 2023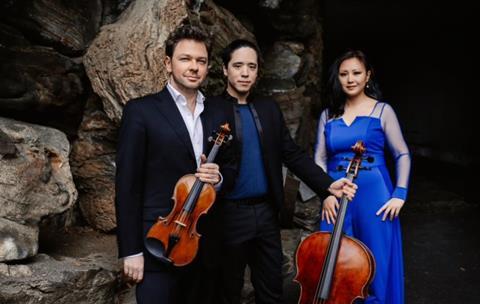 Composer Sam Perkins drew on a collection of curious stories for his entertaining seven-movement work Freakshow, premiered in 2016 to mark the centenary of the Irish Easter Rising. The first movement, 'The rat circus', featured grotesque, violent scrunches; 'The two-headed nightingale' was a sort of waltz with many portamentos; comic and unsettling. Later, the players were required to play pizzicato on the wrong side of the bridge ('Pandora's basket') and to sign off the work with a sort of pizzicato hoedown and a shout. The Sitkovetsky Trio captured all these musical pictures with colourful, dynamic playing.
Beethoven wrote his Allegretto in B flat major WoO39 in 1812 for Maximiliane, the nine-year-old daughter of friends, who was learning the piano (her mother Antonie Brentano is thought to have been the mysterious 'Immortal Beloved'). It was played with grace and artful simplicity.
After a stern opening, Mendelssohn's C minor Trio was performed with a mixture of delicacy and restless energy. The second subject was suitably grand, and the musicians moved into the development with nervy impulse and some pronounced rubato. The Andante espressivo had fluidity and flexibility, and there was a twinkling lightness to the hurtling scherzo. Cellist Isang Enders opened the finale with an exuberant swoop which aptly presaged a performance of turbulence and passion.
TIM HOMFRAY